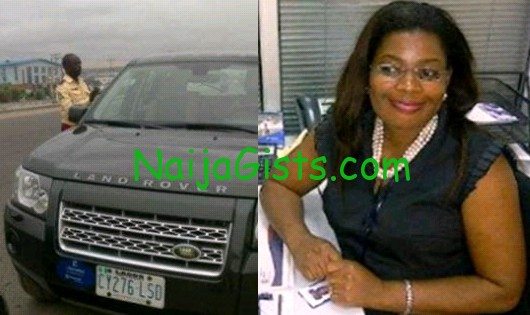 Updated August 14, 2012 – Yinka Johnson Released, Murder Charges Dropped
As at today the 14 of August, 2012 Yinka Johnson and her baby have been released from Police detention. She was charged with reckless driving and ordered to pay a fine.
---
August 13, 2012 – Alleged LASTMA Official Killer, Yinka Johnson Claims Innocence
Mrs Yinka Johnson, a Stanbic IBTC Banker in Lagos who was arrested on Friday the 10th of August, 2012 for allegedly crushing a LASTMA Official, Hammed Balogun, to death off Lekki Expressway in Lagos Nigeria while driving against traffic rule has come open to claim innocence. naijagists.com
The mother of three who is currently in police detention with her 2-month old baby claims she is innocent of the charges brought against her.
Lagos State Traffic Management Authority claims Yinka Johnson killed one of their official, Hammed Balogun as a result of her reckless driving while trying to avoid arrest.
Contrary to LASTMA's version of the story, eyewitnesses of the incident and some of Yinka's friends have denied the accusation brought against her. They claim a Danfo Driver killed the LASTMA official while trying to avoid arrest.
As at the time of this report, Yinka Johnson and her baby are being detained in Panti Prison as the police plans to charge her to court for the LASTMA officer's death.
Yinka Johnson's Version Of LASTMA Official, Hammed Balogun's Death
Here is Yinka's version of the story.
I was driving on Lekki-Epe Expressway trying to navigate to the other side of the road when I was accosted by a LASTMA official. The path I took was a one-way road but residents of Ikota Estate usually take it because of the ongoing road reconstruction  on the alternative road.
While I was discussing with the LASTMA official, a vehicle crushed another official a few metres away, causing commotion. I did not run from the crime scene as it was not far from my home but instead came down from my car and called my husband. After the LASTMA officials drove my car away, I went to the police station with my husband to report the incident.
When I got to the police station, the area  commander immediately took over the case and took me to the office of  the commissioner of police. I heard the state governor had already told  him about the case.When I narrated my ordeal to the CP, he did not believe my story. He immediately ordered that I should be taken to the SCID. I am the innocent person here, yet I am being made to pay for what I did not do.
If you have any information about this incident, please call Yinka Johnson's friend on 08037076890.
If she is indeed innocent, let's pray for God to deliver her from this trouble.
Related Topics:
banker, expressway, friday, Hammed Balogun, ibtc, killer, lagos, LASTMA, lekki, nigeria, officer, official, stanbic, woman, Yinka Johnson