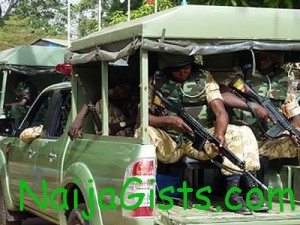 August 13, 2012 – 20 Boko Haram Members Killed By JTF In Maiduguri
On Sunday August 12, 2012, 20 suspected Boko Haram members were killed in a fierce gun battle with Joint Task Force on ground in Maiduguri. naijagists.com
Unfortunately, one officer lost his life while 2 others injured.
"We got a report that some suspected members of Boko Haram were meeting at a particular location in Maiduguri. Our men mobilised, leading to a shootout. Twenty suspected terrorists were killed while a soldier died in the operation and two others sustained injuries," commander Victor Ebhaleme told the news agency, AFP.
According to a senior officer on ground, no arrested were made during the raid on Boko Haram's hideout in Gwaidamgari area of Maiduguri.
Boko Haram sect is responsible for deadly gun and bomb attacks in several parts of Nigeria, especially in the north-east, the centre and the capital Abuja, which have claimed more than 1,400 lives since 2009.