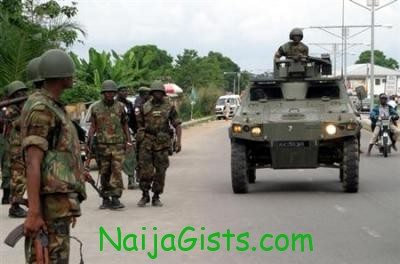 Dec 24, 2011 – 59 Boko Haram Members Killed in Yobe State
59 Boko Haram members were today killed in early morning hours at their operational stronghold in Yobe state by the Joint Task Force. naijagists.com
According to Chief of army staff, Lt. General Azubuike Ihejirika, on Saturday: "There was a major encounter with the Boko Haram in Damaturu yesterday. In the encounter, we over ran their major stronghold and their ammunition site".
"In the encounter, the army lost three soldiers, and seven others were wounded as in the early morning on Friday and by this afternoon, Boko Haram would have lost about 50 men and the arsenal they used would have been destroyed," he added.
During the operation Gen. Azubuike said : "They came with sophisticated and heavy weaponry including GPMG's, SMG's and bombs but our trained soldiers subdued them".