Kogi State News
64 Villages Submerged By Flood In Kogi As Heavy Rainfall Claimed Many Lives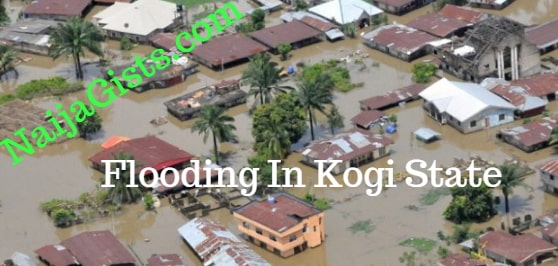 Natural Disaster Puts Kogi In A State Of Emergency
By NAN
Non stop rainfall experienced in Kogi State during the year has continued to wreak havoc, claiming lives and destroying properties, with scores of communities already submerged by flood in the Kotonkarfe area.
The severity of the situation was which was witnessed by members of the State Emergency Management Agency, led by the Director of Relief and Rehabilitation,
The State Emergency Management Agency confirmed that more than 60 villages were submerged by flood in the last one month.
A representative of Head of Operations at the NEMA headquarters, Abuja, Reuben Babatunde, during an on the spot assessment to the Internally Displaced Persons (IDPs) camp at Edeha, confirmed that at least one live was lost to the flood.
According to him:
"The state has set up five temporary camps for victims, in collaboration with the local government, and that is why NEMA is here to assess the situation. This is a natural disaster but NEMA would do its best to respond as fast as possible.

"The local government official said that 64 villages have been submerged."

The Kogi Government on Monday advised residents of flood-prone communities in the state to relocate to a safer place, to avoid loss of lives and property.

The Commissioner for Environment and Natural Resources, Sanusi Yahaya, made the announcement in a statement issued issued in Lokoja.

"The Kogi State Ministry of Environment and Natural Resources wishes to announce to members of the public, especially those in the nine flood-prone local government areas to relocate.

"In view of the heavy rainfall recorded so far this year due to climate change, as well as the high volume of water from tributaries of Rivers Niger and Benue, which has led to steady rise in water level of the rivers, as confirmed by our monitoring team.

"This development may likely cause flooding in some flood-prone LGAs: Omala, Bassa, Kogi/Kotonkarfe, Lokoja, Ajaokuta, Ofu, Idah, Ibaji, and Igalamela/Odolu.

"The ministry, therefore, strongly appeal and request the people living in these flood-prone LGAs, particularly those living close to river banks, to start moving to safer ground, to avoid loss of lives and property in the event of flood."
He said that the state government had started preparing temporary shelters for flood victims in the event of emergencies.