Political News
Abacha Loot Fully Recovered As Switzerland Confirms Return Of $321Million With $1.5Million Interest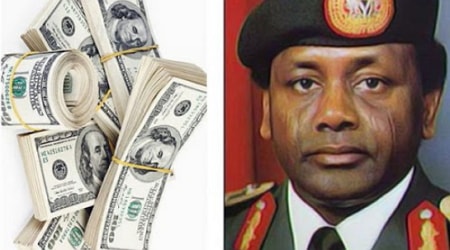 Abacha Loot Fully Recovered As Switzerland Confirms Return Of $321Million With $1.5Million Interest
The government of Switzerland said it has returned all the money kept in the country by late Head of State Gen. Sani Abacha with $1.5 million interest.

Assistant Director-General and Head, Global Cooperation Department, Swiss Agency for Development and Cooperation, Ambassador Pio Wennubst, broke the news to the NAN in New York.

Wennubst said Switzerland returned about $322.5 million (N116.11 billion) to the Federal Government.

According to him, the original amount was $321 million.

The Federal Government had announced receipt of $322.51 million from the Swiss government as part of the looted funds recovered from the late former Head of State.

Minister of Finance Mrs. Kemi Adeosun, through her Special Adviser, Media and Communications, Oluyinka Akintunde, had confirmed the receipt of money from Switzerland.
Akintunde said: "We state that $322,515,931.83 (N116,105,735,458.80) was received into a Special Account in the Central Bank of Nigeria (CBN) on December 18, 2017, from the Swiss government."
Confirming this, Wennubst said: "We returned $321 million, including the interests.
"We return all the amount, $322.5 million, including the interest for the time that the funds were blocked."
The Swiss envoy added that the money was returned to the Nigerian Government unconditionally.
"We are not talking about the condition; there was a programme on the social safety net that was developed by the Government of Nigeria and the bank.
"After discussing, the only condition, set by the judiciary, not by us, was that the return of this asset should have been monitored by the World Bank and this is where we worked on," he added.
According to him, these funds were part of the Nigerian Government contributions to the social safety net programme, "plus concessional loans from the bank".
The 'Abacha loot' was frozen in 2014 by a Swiss court after a legal procedure against his son, Abba Abacha.
Originally deposited in Luxembourg, the money was a fraction of the billions of dollars allegedly looted during his rule from 1993 to 1998.
Similarly, the UK Government also pledged its commitment to ensuring that money and other assets illegally transferred from Nigeria are repatriated back to the country.
Director General, Economic Development and International, UK Department for International Development Mr. Nick Dyer told NAN that assets return would contribute to origin countries' grow.
Dyer said it was an important part of grow process to identify how and where assets were going astray and to also recover them and send them back.