Abuja News
Video: Dino Melaye Jumped Out Of Police Van On Way To Court After Thugs Blocked SARS Convoy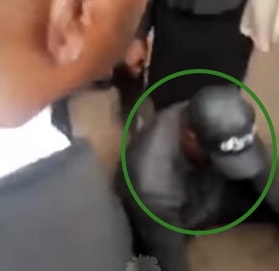 How Dino Melaye Jumped Out Of Police Patrol Window After Thugs Blocked SARS Convoy Taking Him To Lokoja
Melaye was on Tuesday night arrested in a hospital in Abuja where he was admitted after he attempted to escape from police custody.
https://www.youtube.com/watch?v=m3MYHrs1IaA
The Kogi West Senator was stopped from travelling to Morocco on Monday at the Nnamdi Azikiwe International Airport, Abuja, because "he is on the wanted list". A police contingent thereafter laid a siege to his residence.

On Tuesday, he surrendered himself to the police whose men took him in their van and were heading for Lokoja, the Kogi State capital, where the senator is due to face criminal charges for being in possession of firearms illegally.

The police said Melaye attempted to escape by jumping out of the vehicle through the window after some hoodlums in two Toyota Hilux vehicles blocked the vehicle conveying the senator to Kogi State.

The police added that the senator was rescued from policemen by the hoodlums and taken to an unknown destination.
Police spokesman Jimoh Moshood, in a statement, said:
"At about 1200Hrs of today (Tuesday) Sen. Dino Melaye while in lawful custody of the Nigeria Police Force and being taken for arraignment in Federal High Court, Lokoja from Abuja, escaped from lawful custody when hoodlums and miscreants in two Toyota Hilux Vehicles blocked the police vehicle conveying Senator Dino Melaye around Area 1 Roundabout, Abuja.

"In the process, the senator jumped out of the police vehicle through the window and was rescued from the policemen by hoodlums and miscreants to an unknown destination.

"The Police team reinforced and trailed Senator Dino Melaye to Zankli Hospital, Abuja where he was re-arrested."