Political News
APC Will Defeat PDP In Ekiti Over Fayose Unpaid Salaries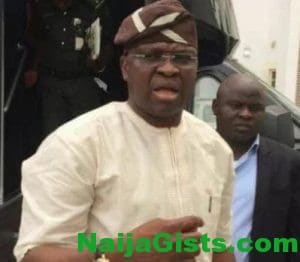 An APC leader in Ekiti state, Mr.Makinde Araoye, has said failure of Governor Ayo Fayose's government to pay salaries as and when due would make victory easy for the opposition in the July 14 governorship election.
Araoye expressed confidence that government workers would vote massively for the APC candidate, Dr. Kayode Fayemi, having experienced hard biting poverty in the last three years due to alleged incompetence manifested in Fayose's inability to pay workers' salaries and pension.
He said it was wicked for a governor to be owing workers and pensioners eight month arrears in an environment that was heavily anchored on civil service monolithic economy, saying this had further lowered the standard of living of Ekiti populace.
Speaking with reporters on Ado Ekiti on Thursday, Araoye said time has come for workers to appropriate their votes in a more judicious and appropriate way, by voting for Fayemi based on his track records and belief in running worker-friendly policies.
The APC chieftain said it sounded unfathomable for Fayose to intentionally kill those legacy programmes initiated by Fayemi that could have shored up the Internally Generated Revenue, pointing out that the measure was largely responsible for the failure of governance
in Ekiti.
Araoye said: "When the Minister of Mines and Steel Development, Dr Kayode Fayemi came on board in 2010, he appreciated the fact that there was an urgent need to establish those investments that could generate money for our dear state.
"That was why he took N20b from the capital market out of which he invested over N2 billion on Ikogosi Warm Spring, built the State Pavilion located along Ado New Iyin Road, revived Ire Burnt Brick that was inaugurated by former Kano State Governor, Alhaji Rabiu Musa
Kwankwaso, set a solid foundation for youth engagement in Agriculture and many others.
"Before Dr. Fayemi's exit, the Ikogosi Warm Spring was already generating over N45 million into the state coffers monthly. The Ire Burnt Brick had begun skeletal production and was attracting serious patronage within and outside Ekiti.
"But today, those programmes have been abandoned. They have returned to that moribund States they were before Dr. Fayemi came on board.
"One wonders why should those programmes be rendered impotent just because of politics by Governor Fayose, even when he makes noise everyday that the state is economically challenged.
"This is the major reason why our people must divorce themselves from unnecessary emotions and vote wisely on July 14.
"They should resist attempt by clever politicians to delude them into taking decisions that would land them in more sufferings and gnashing of teeth after all they have seen and made to pass through in the last few years."
Araoye advised Fayose to stop turning Ekiti into a beggarly State in the name of stomach infrastructure, saying: "making our people to queue under a scorching sun for several hours because of a kongo of rice and N200 was not only debasing but ridiculing Ekiti's collective
integrity.
"The July 14 election is a reclamation war for all of us. It is a time we must seek our political freedom and this we must realize for those lost glory to return and for us to regain our pride as truly a set of Knowledge people."