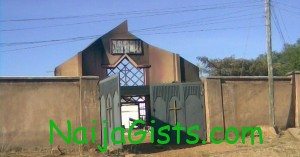 Dec 29, 2011 – Attempt To Burn Down Church Foiled in Bayelsa State
A young man by the name of  Wisdom King is currently in SSS custody, in Yenagoa capital of Bayelsa State, South-south Nigeria over an attempt to burn down a church. naijagists.com
Wisdom King had a disagreement with the pastor of the church, God's Grace International Ministry along Kpansia Road, Yenagoa.
The suspect is said to be an ex-convict from Edo State. He was being rehabilitated by a concerned pastor who once had his church in Edo State before he relocated to Yenagoa.
While trying to rehabilitate King, the church decided to pay the suspect's two-year house rent with the hope that when he settles down and gets a job for himself, he will start to care for himself.
However, this was not to be. Immediately his rent expired, King returned to the church demanding more financial gratification and assistance.
The church turned his request down, insisting that the aid expired in two years and it was time for him to be a master of his own life.
King reportedly refused to accept the church's stand. He allegedly returned dressed in a kaftan like an Islamic cleric and reportedly carried an inflammable substance with which he intended to burn the church.
But vigilant members of the church who sighted King in his Islamic regalia informed men of the SSS who quickly rounded him up.
Nobody is sure whether Wisdom King is mentally stable. But investigation by our correspondent revealed that the suspect may not be a member of the dreaded Boko Haram sect.
Contacted, the Bayelsa State Police Command Public Relations Officer, Mr. Eguavoen Emokpai, claimed he was not aware of the incident.
However, it was not possible to get the reaction of officials of the SSS as at press time. Investigation shows that residents of Yenagoa have been reacting to the incident as an isolated case of a disgruntled pensioner and his church.
They are not linking it with the Boko Haram sect.(pm news)