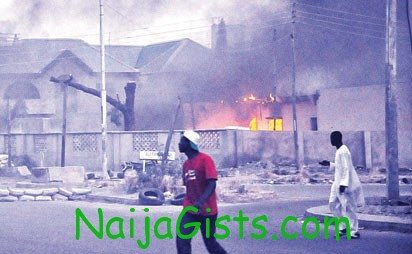 May 17, 2012 – Boko Haram: 2 Bomb Blasts Hit Kano
These Boko animals don come again o.
Naijagists.com learnt 2 major bomb explosions hit 2 seperate primary schools in Jayin and Hotoro Arewa in Kumbotso and Nasarawa local government areas respectively in Kano municipal.
Eyewitness Account of Kano Bomb Blast
According to eyewitness, the attackers who came on a motorbike ordered watchmen at both schools out of the premises before attacking the schools.
The source further explained that the attack triggered pandemonium and forced night life to a halt as residents scampered to safety.
When will these Boko Haramists stop.
For more update on Boko Haram, please visit https://naijagists.com/boko-haram-news-update-in-nigeria/