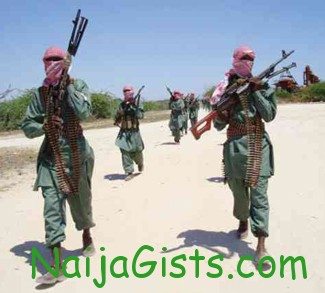 Sept 4, 2012 – Boko Haram Sets Up Operational Base In Rivers State

Alhaji Musa Otto who is the current chairman of Rivers State Islamic Forum of Nigeria has alerted security officials of the presence of the operational base of Boko Haram sect in the state. naijagists.com
He made this shocking revelation over the weekend during an interview with the Nation Newspaper.
In the interview, Musa said Boko Haram sect has gained access to the Muslim community in rivers state from riverside Bonny Island operational base.
He said if care is not taken, they might begin a violent campaign in the region soon.
Here is what Alhaji Musa said in the interview:
"There are no two types of Islam in insistence but there is a group known as Shiite. I have once reported to the State Security Services (SSS) of the existence of their members here in Rivers State. They built their Mosque at Bonny; I saw this during the voter registration exercise in Bonny in 2010/2011.
"They believe, preach and carry out violence; they are not Moslems and not of Islamic religion but they dress like Muslims. They have carried out a lot of violence, killing of Muslims in different parts of the world including, Saudi Arabia.
"Here in Rivers state, let me say it now again, maybe before it will happen. I saw their secretariat in Bonny; it was a fellow Muslim that showed me their mosque. I shouted and queried why they should be allowed to spring up in this state, to the extent that they have established operational base.
"You see, they left the entire upland and went to a place where they know that the people there do not know them and what they are up to, and set up their base. One day after they have gathered enough momentum, they will explode and begin to do what they are doing in the North; then Christians here will now say that Muslims are attacking them.
"When I came back I went straight and reported the matter to SSS but I don't know how far they have handled the issue. Those people are not people to be tolerated in the society, they are Boko Haram group," (culled from the nation)
For Boko Haram's news update, visit https://naijagists.com/boko-haram-news-update-in-nigeria/