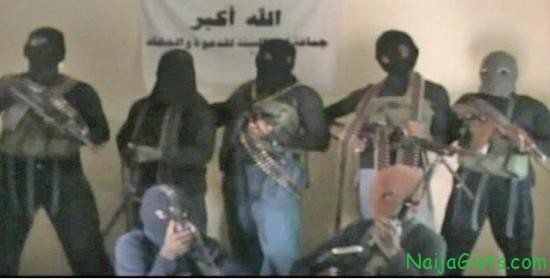 Dec 6, 2012 – Boko Haram Suicide Bombers Promised 72 Virgins In Heaven
New details emerged yesterday of the incentives promised suicide bombers of the Boko Haram sect to carry out their deadly missions.
An Army officer told the Federal High Court in Abuja on Wednesday that four suspects of the Suleja bombing were promised 72 virgins each as incentives.
The officer, whose name was not given for security reasons, was testifying in the case filed by the State Security Service against the six accused Suleja/Madalla bomb attack.
He said in his evidence-in-chief that the information was contained in a cell-phone confiscated from the suspects at the point of their arrest in Gumel Junction, Kachia in Kaduna State.
The suspects are: Salisu Ahmed, Umar Babagana-Umar, Mohammed Ali and Musa Adam.
The News Agency of Nigeria (NAN) reports that Umar Ibrahim and Shuaibu Abubakar, were also standing trial for alleged multiple bombings and killings in Suleja and Madalla both in Niger.
He explained that a total of four mobile phones were seized from the suspects.
The witness further said that one of the mobile phones carried the promise of incentives and the secret code to arrange and detonate an explosive.
NAN reports that the witness reads the first message as thus: "Do a deed which Allah by his grace and mercy saves you from the punishment of the grave and a dangerous bridge with a speed of light.
"Save you from the greatest fear. Allow you save from hell fire. 70 members of your family shall marry you 72 virgins in paradise, gives you a crown of respect, which even the prophet will be impressed with.
"Keep your soul in the green birds of paradise and your wish to return to the World and die as he died because of the good blessings and reward you encounter after such noble last deed.
"I pray for you to do such a noble deed," the message stated.
According to the witness, the second message reads: "Breast swelling cap clous 500 qds, tap flag."
The witness told the court further: "I suspect this second message could be a code to arrange and detonate the IED material in their possession."
He further said that another mobile phone contained picture of the late Boko Haram leader, Mohammed Adamu, and three blindfold persons carrying AK47 rifles.
The witness said the suspects were arrested on July 28, 2011 in Kachia, on their way to Kaduna where the Vice President, Namadi Sambo, and other dignitaries were to attend a sporting function on July 29 at the township stadium.
Mr. Emeka Okoro, the counsel to the accused persons, however, applied for a short adjournment to enable him to access the officer's statement which was not before the court.
Justice Bilkisu Aliyu then adjourned cross examination of the witness till today.
Aliyu ordered the State Security Service to avail the counsel to the accused persons with the army officer's statement. (Credit:PMnews)