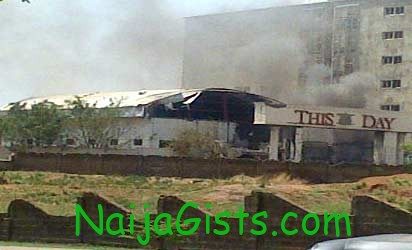 April 26, 2012 – Bomb Blasts At Thisday Office in Abuja & Sun Newspaper Office Kaduna

Deadly bomb blasts rocked Thisday Newspaper office in Abuja and Sun newspaper Offices in Kaduna. naijagists.com
Several people were reported injured.
As at the time of this report, Naijagists.com learnt several ambulances are now evacuating the injured people around thisday office in Jabi, Abuja.
Thisday Newspaper Office Bomb Blast News Update
A loud explosion rocked an area  Abuja on Thursday followed by smoke and ambulances headed in the direction of the blast, with injuries reported.
Reports have it that the bomb blast in Abuja Thisday office in Jabi was carried out by a suicide bomber who drove into the media house before detonating the bomb hence  blowing away the building 's roof.
But Mr Yushau Shuaib  a National Emergency Management Agency spokesman said the blast "occurred inside the premises of a national newspaper," adding that "a preliminary investigation seems to indicate that the explosive device was planted somewhere within the premises, not likely a case of suicide bombing."
An AFP correspondent heard the blast and saw ambulances heading towards a district where a bus station and newspaper office are located.
A police spokesman said "we heard something like that happened, but we don't have the details yet."
A spokesman for the National Emergency Management Agency said "it's true there was an explosion at Jabi (district)."
"NEMA officials are on the ground," said Yushau Shuaib. "They are trying to move those injured to the hospitals, but we don't have any information on casualties yet."