Strange/ Bizarre News
Chinese Orthopedic Surgeon Who Slept Off During Surgery After Performing 5 Surgeries In 20 Hours Dubbed A Hero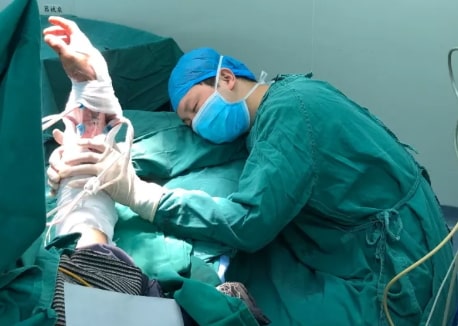 Luo Shanpeng, Chinese Orthopedic Surgeon Who Slept Off During Surgery After Performing 5 Surgeries In 20 Hours Dubbed A Hero
Around 6 pm on January 3,  Six Doctors received a patient (migrant worker) with broken right hand. Luo Shanpeng, an orthopaedic resident doctor who was on duty at No. 6 People's Hospital of Guiyang in south-eastern China's Guizhou Province that day, immediately performed the surgery. However, since Luo Shanpeng had done 5 operations before, after performing another surgery on the patient , he suddenly fell asleep as he held the patient's arm to promote healing.
The above photo was taken by a nurse on duty.
Here is what Dr Luo said after the photo went viral.
"I originally wanted to close my eyes and rest. I didn't know that I fell asleep".
He has been dubbed a hero by his colleagues.