Abia State News
Fatal Accident Kills All Car Passengers In Abia State..Blood Bath On Ohafia Abam Road As Newly Married & 11 Others Die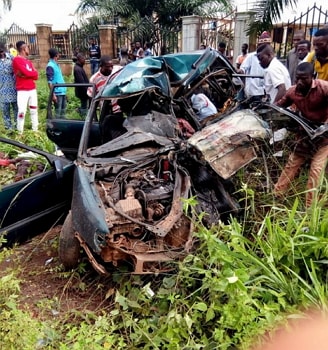 Fatal Accident Kills All Bus Passengers In Abia State..Blood Bath On Ohafia Abam As Newly Married Lady & 11 Others Die
Strategy struck the people of Ohafia Abam in Abia state over the weekend when all passengers of a commercial car died in a fatal collision that happened just before noon.
According to eyewitnesses, a lady returning to Umuahia after her traditional wedding ceremony was killed when a Passat vehicle conveying her and others to Umuahia somersaulted and landed into the bus.
The 7 occupants of the car and two other persons on a motorcycle died on the spot.
Rescuers were filled with emotion when all their efforts to rescue two other trapped occupants of the vehicle failed.
The driver of the vehicle reportedly welcomed a baby after 12  years of marriage.