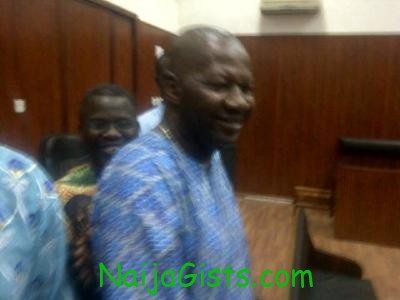 Nov 25, 2011 – Lagos High Court orders NDLEA To Pay Baba Suwe N25m
Justice Yetunde Idowu, of the High Court in Ikeja, Lagos State, has ordered the National Drug Law Enforcement Agency (NDLEA) to pay N25 million to actor, Babatunde Omidina, popularly known as Baba Suwe, for denying his rights to personal freedom.
The actor had sued the anti-narcotics agency for N100 million.
Counsel to Baba Suwe, Bamidele Aturu, had argued, during the hearing of the suit, that the NDLEA violated his client's rights by keeping him in its custody for more than the constitutionally allowed 24 hours without charging him with any offence.
"From all indications, the NDLEA's action in this matter is a clear violation of his human rights," said the judge while giving her ruling. "I hereby order that the sum of N25 million be paid as damages to the applicant and a public apology tendered in two widely read newspapers within 21 days of this judgment. Counsels to both applicants and the respondents should agree on the newspapers to use."
Reacting to the ruling, Bamidele Aturu, lawyer to Baba Suwe, said they were satisfied with the ruling and hoped that this will send a strong signal to other law enforcement agencies.??However, counsel to the NDLEA, Theresa Asuquo, said that they were not satisfied with the ruling and would appeal the judgment. She said the notice of appeal may be filed before the expiration of the day order from the court.