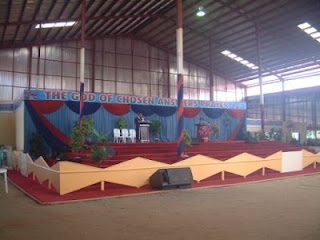 Feb 21, 2012 – Lagos Shuts Down Six Churches Over Noise Pollution
The officials of Lagos State Environmental Protective Agency (LASEPA) have shut down six churches in Lagos Mainland areas over noise pollution. Below are the churches affected naijagists.com
 The Lord's Chosen Charismatic Ministry Bible Church, FESTAC
The Chapter of Christ Church, Oregun, Ikeja
Assemblies of God Church, Ikeja
The Golden Gate Church, Ifako-Ijaiye
Seek and Save Ministry, Abule Egba.
According to PM News, the agency has warned the churches to reduce the noise coming from their worship centers or face sanctions before carrying out its threat over the weekend.
Defending the agency's action, General Manager, LASEPA, Engr. Rasheed Shabi said some of the churches rebuffed meetings called by the agency on how to resolve the issue.
"The agency's stance is clear on issue of noise pollution level permitted. This has been communicated to all worship centers in the state. The level of noise pollution allowed in the state is between 55 decibel during the day and 42 to 45 decibel at night," he said.
The general manager of LASEPA is Rasheed Shabi (Guess this has a religious undertone)