Political News
NASS Actor Dino Melaye Pictured On Hospital Bed As He Shuns Court Case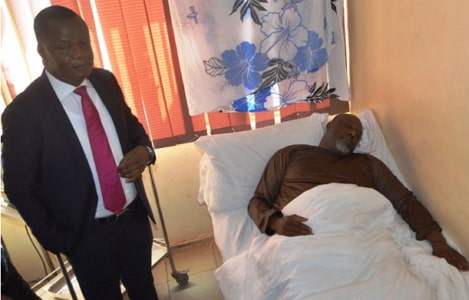 NASS Actor Dino Melaye Pictured On Hospital Bed As He Shuns Court Case
Kogi West Senator Dino Melaye is still cooling off in his "vacation unit" at a private hospital in Abuja days after a pretend fall in front of a waiting police van.
The notorious NASS thug who has been evading arrest since last week was today pictured taking his rest on his hospital bed.
He has since shunned his court case.
Melaye is expected to answer a case of Criminal Conspiracy and Attempted Culpable Homicide against him under investigation in the Kogi State Police Command.
The Ajekun Iya senator sure has skeleton in his cupboard. Why is he running away from the law???. Fayose's brother from another mother.
He is lucky this case is being handled in Nigeria, in developed world, this kind drama will not be permitted.