Political News
Robert Mugabe Now Using Wheelchair! Ex-Zimbabwean President Receiving Treatment In Singapore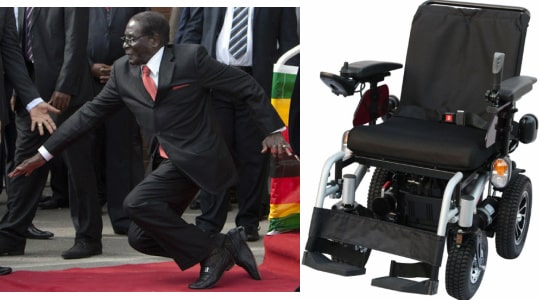 Robert Mugabe Now Using Wheelchair, Ex-Zimbabwean President Receiving Treatment For Old Age Disease In Singapore
The immediate past President of Zimbabwe, Robert Mugabe is now confined to a wheelchair.
The 94-year-old founding father of free Zimbabwe is battling an old age disease that requires constant medical attention.
Mugabe who was flown to Singapore two months ago couldn't return to his home country as promised on the 25th of October 2018 due to failing health.
Zimbabwe who assures his supporters that he's getting better promises to return on November 30.
The controversial ruler was removed from office by the military on the 21st of November 2017 after 37-year grip on power.
President Emmerson Mnangagwa told his supporters at a rally in Harare that the 94-year-old former leader can no longer walk due to old age and ill health.