Temilolu Okeowo
My Parents Don't Care About My Feelings. I'm All By Myself.. Is This How I'll Continue With Life?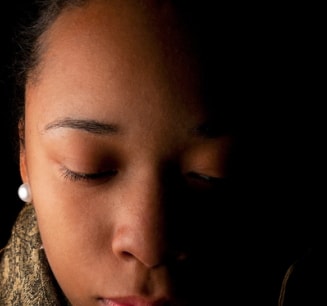 By Temilolu Okeowo
DEAR Mummy Temilolu,

I feel like I'm not normal! I clocked 18 recently and I don't think or behave like my age mates! I'm much more mature but don't have boyfriends like my friends do! This has left me lonely. Also, I've had issues with my parents, right from when I was a mere child! I have always been verbally abused by my dad! This has affected me a whole lot since when I was much younger! In fact I remember an incident that happened when I was just five years old when my dad poured out his frustration on me by insulting me! Beginning from that day I lost my self esteem and self confidence. I began keeping to myself! I simply cowered into a shell from those who should love me the most and make life enjoyable for me.

I went through a lot of emotional abuse out there but couldn't confide in my parents or any family member. I would cry myself to sleep every night! Until I couldn't take it anymore and had to come out of my shell little by little! I'm the first daughter and I don't have any father-daughter relationship with my dad! He believes he has been doing the world for me by sending me to school, providing me food and shelter! I cannot ask him anything aside those things! I have been carrying my natural hair for over two months now without making it! He doesn't care! My dad has never given me pocket money! (Not because he doesn't have). Since I became a teenager, my dad never gave me money for new clothes or underwear or even sanitary pads! I doubt he even knows I menstruate! My mom on the other hand tries her best! She has her own unpleasant issues with my dad! And she has her faults too! She's not attentive! She doesn't know how to listen, besides she'll never understand me!

Emotionally, I have really liked a guy before and according to him it was mutual! I didn't date him; I had made it clear to him! And so we went about it the most responsible way which was normal friendship! Well, long story cut short – he went behind me and started dating someone else! It was quite heart-breaking but I thank God he didn't make me lose my virginity!
There is one thing I know and that is the fact that my parents don't deserve me! Despite all these things and more that I daily go through, I never gave them problems that teenagers give their parents. I was and will never be wayward! I have never been in a romantic relationship, never had "friends with benefits!" Yet they don't seem to appreciate what they have! I've had several opportunities to do bad things but I didn't! All I truly desire with all my heart is a close relationship with God! I'm all by myself! Mummy, is this how I'll continue with life? I'm tired! Please help me ma!
Dear parents of my darling, precious, glorious, dignified, world-famous and heavenly celebrated Nigerian sisters,
Whenever I see my childhood photos, I relieve with great joy and nostalgia my childhood. And I had planned to do a special post on the effect of a father's love especially on a girl-child because of what my upbringing is making out of me and thousands of girls! We are quite a number from same parents but my late dad was a father like no other -he loved us much too excessively and expressed it like no man's business! A strict disciplinarian though, he raised us like the Von Trapp family of Salzburg, Austria, whose delightful story was made into Rodgers and Hammerstein's Broadway musical, The Sound of Music.
Every day was Christmas! We were like trophies to him – he treated us like his last breath! I won't even go further! Why? I stumbled on this young lady's message to me and realised too many have fathers who behave like they are living-dead! The story above broke my heart and I've decided to adopt her as my daughter! This girl needs a father!
What surprises me is her wisdom, her resolution to remain pure in spite of the lack of love and attention she's been used to all her life, her contentment! What a life! In this age when most 16-year-olds are celebrating their graduation from high school with getting deflowered! There are thousands of teenagers out there whose parents are daily splurging on and showering with love and attention who don't give a hoot about morality and who most of the time are their parents' nightmare! I see an Amazon in the making – a woman of steel! I read from girls on a daily basis but this one really touched my heart! She belongs to me! Hmm…I don't even know what to write again but can only pray God forgives parents who refuse to nurture their children!