Strange/ Bizarre News
Nigerian Man Begs For N5M Donation For Brain Surgery In India, Says Problem Started After Eating Corn From Hawker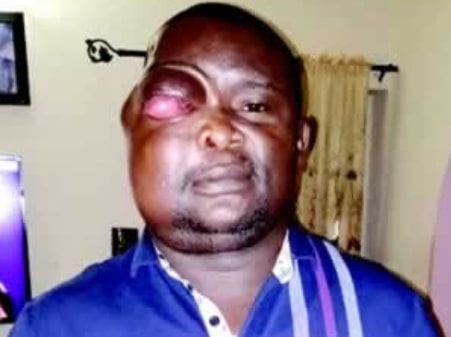 By Dayo Ojerinde, Punch NG
Nigerian Man Begs For N5Million DonationFor Life-Saving Brain Surgery In India, Says Problem Started After Eating Corn From Hawker
Mr Adekunle Olatoye, 39, who lives in the Ogba area of Lagos State, has appealed to well-meaning members of the public to come to his aid for eye surgery.

Speaking with our correspondent, Adekunle recalled that the problem with his right eye started in 2015 when he started feeling pain on the right side of his head.

"It started in September 2015. I left a banking hall and bought cooked corn from a hawker by the roadside. After eating it I started feeling pain on the right side of my head.

"By July 2016, the pain started affecting my right eye. So I went to a private hospital in Ogba and was transferred to the Lagos State University Teaching Hospital. But when I was not satisfied with the equipment at the hospital and the competence of the doctors who attended to me then," he said.

Olatoye said he had earlier gone for a surgery at Wellington Clinic, Maitama, Abuja which cost him four million naira but after some time the eyes began to bulge out again.

"I deposited N1.5m and paid the balance in installments after the surgery. At the hospital, they assured me that everything would be fine and that was why I didn't go to India for the surgery then.

"Two weeks after the surgery at Welington hospital, I went back for post surgery test and another scan revealed the issue was still there. Here I am, things are getting worse and I really need help now," he lamented.

Olatoye said he contacted three hospitals in India and they responded with a list of the items he would need for a brain surgery. He said he would require the sum of N5m to travel to India for a brain surgery.

The Head of Unit and Senior Consultant, Neurosurgery at the Max Super Specialty Hospitals, New Delhi, India, in his acceptance letter to Olatoye, promised a 98 per cent success rate for the treatment.

Olatoye can be reached on 08120797096, while financial donations can be sent to his account details: 2009545023, Zenith Bank, Olatoye Joseph Adekunle.