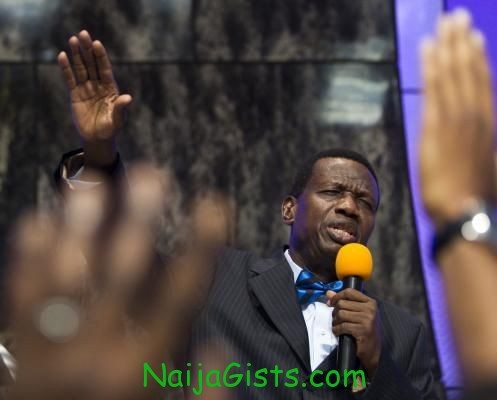 Feb 5, 2012 – Pastor Adeboye Declares War On Boko Haram
During an uncommon diplay of what I call holy anger, The General Overseer (GO) of the Redeemed Christian Church of God, RCCG, Pastor Enoch Adejare Adeboye, on Friday night, adopted a spiritual way out of Nigeria's current security challenges, urging the mammoth crowd of worshipers, who attended the February Holy Ghost Service, to pray to God to dismantle all 'gates' behind the menace. naijagists.com
Declaring 'holy war' against what he described as a reign of terror in the country, Adeboye asked members of RCCG, who had commenced a month of fasting and prayers, to add a prayer point aimed at arresting the menace of Boko Haram before the end of the month.
"His words: As we wait on the Lord in fasting and prayer this month, I want you to include two items in your prayers: I want you to ask God to deal with the enemies of Nigeria speedily; that before the end of this month, all the problems of Nigeria would be over."
According to him, "if we all join forces and cry to God, He will do for us. The second prayer I want you to pray; remember I've asked God for a special 70th birthday present of 70,000 children, join in prayer that God would release those that are still hanging in the air this month.
"I want 70,000 new babies, so that by the end of this year there will be no barren left in our churches."
While preaching a sermon entitled, "Lift up your head oh ye gates," Adeboye urged the crowd of worshipers at the Redemption Camp not to be too sanctimonious about the prayer against terror, stressing that from the days of John the Baptist, the Kingdom of God suffers violence and it's only violent that can take it by force".
Explaining the effects of biblical gates, he said there are national gates where a whole nation can be in trouble because certain gates refuse to open, pointing out that "every gate that is holding the children of Nigeria captive must come down crashing in the name of Jesus Christ."
At intervals, the General Overseer, whose wife had earlier led the congregation to pray for peace in every part of the country, sent spiritual missiles to all harbingers of terror in the country who have created fear and terror. (Story credit: Sam Eyoboka and Olayinka Latona)