By Sola Adeyemo
A Septuagenarian crocodile still living in its habitat has been found at Oje community in Ibadan Oyo state Nigeria.
The crocodile which many believe has supernatural powers is said to be 78 year old.
Here is what the Mogaji of Delesolu community in Oje area of Ibadan, Chief Raufu Yesufu told Sola Adeyemo about the wonder of nature.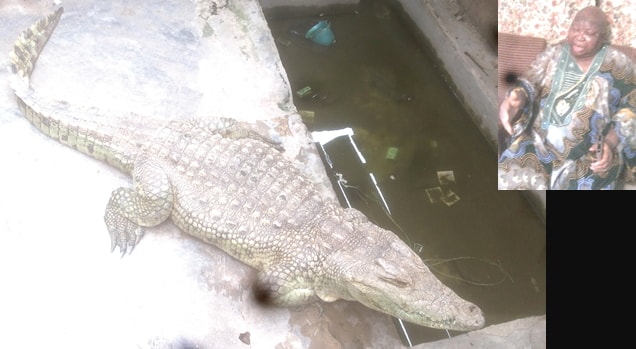 Origin

According to Chief Yesufu: "Delesolu and Lajifin are of the same parents from Ijeru in Ogbomoso. The first Oje which is called Oje-ile is exactly where the Oje people and Ijeru people came from, but when the Oje- ile lost her territory due to war, then they moved to Ijeru. Then, the father of Delesolu and Lajifin, who is called Olaojubu settled in Ijeru. Delesolu and Lajifin who were warriors told their father that they would not be staying in Ijeru and that was how they started their journey as warriors till they got to Iba Market in Ibadan,Oyo State.

Settlement at Ibadan

On getting to Ibadan, they resided beside Oderinrlo's house. Oderinlo was also a warrior. His statue is that which was erected in the front of Mapo Hall. Meanwhile, the duo of Delesolu and Lajifin were there with their wives, relatives and some slaves and also with their drummers. The name of the head of their drummers was Agate. When they got to Ibadan, they supported the people of Ibadan to fight the first and second Ijaye wars. They also teamed up with Ibadan people to fight Gbananmu war which they won. But whenever they went to the battle, before they would return, their children would have died. Delesolu then consulted one of his priests called Ileugbe, and when they consulted the Oracle (Ifa), it was the Oracle that said they should relocate from their normal residence to another place to avoid such occurrence and when they got to a town meeting, called Awujo, it was there that Delesolu announced his decision to relocate to another part of the town. It was after the people of Ibadan had collected cowries, eleven horses, also eleven slaves that some high chiefs in the town now led a delegation to where is today known as Ile Igbejo in the centre of our compound. Although, the whole place was a thick forest, it was during the clearing of the bush that one of the slaves saw a wrist ornament that was made of silver (Oje) and when he showed it to his master, who was Delesolu, then Delesolu said that he left his people at Oje Ile and now got here to find Oje, and he henceforth announced that his new settlement will be called Oje. The bangle was made of herbal and traditional silver called Oje and that made Delesolu to announce that his new settlement shall be called Oje. That was how the name Oje came to being.

That was how Delesolu was living together with his diviners, drummers, family, slaves and his warriors and they were happily living together in peace and harmony, and that has been the situation till today. That front building is meant for our drummers. It has been like that since the inception of this Oje. It was the decision of our forefather Delesolu that his drummer should have his house at the front of his own building and it has been like that since then.

Since then, anybody that entered Ibadan and was ready to settle in the town, the king and chiefs would refer the person to Ile Delesolu in Oje, saying, 'he has land in abundance; he will give you land'. And that was how the whole place was developed from Alafara Oje to Total Garden. Oje is surrounded by rivers, we have Yemetu River. Onikokoro River is also there at Baba Isale. We are surrounded by those rivers including Odookun River, and our boundary ends at Alagbafo River in Total Garden. Now people started coming to Oje to settle there, and the whole place started to develop.

It was then that Delesolu thought of what next to do for his people and that was how he thought of having a market for his people. And that was how Oje Market was carved out of Ibaoluyole's Market. This was done by the gimmick of Delesolu who instructed his people to clear some portion of land in his domain and also asked them to make heaps. Under those heaps, he asked them to plant some cowries in each of the heaps.

As the people that were going to Iba Oluyole's Market for their daily transactions, Delesolu will intercept them and convince them to come and see what they were going for at Iba Market. He would tell them that money that they were looking for was under the heaps in Oje. He told them to use a wooden rod to destroy the heaps and that whatever they would see would be theirs, and that they could still come here the following day for their transaction. That was the gimmick that Delesolu used to gain more marketers to his newly- created market and that is the market that is at the centre of the Oje domain as you have seen.

Propitiatory angle to popularity of Oje Market

The priest of Delesolu had instructed him that he would have to perform a sacrifice to make the market to be hat which would attract all and sundry. He said that the sacrifice must be carried out by him. Delesolu had to carry the appeasement that was prepared in a mortar in the night, though he had his brothers, sisters, as well as, many horses but they must not do it on his behalf. The Oracle said he had to carry it by himself and he carried it from Isale Alfa till he got to Iso Saagun, known as Idi Ayunre then. It was the first Idi Ayunre we had in Ibadan. So, when Delesolu got to that Idi Ayunre, he dropped the sacrifice and prayed into it and left for his home. The tree of that Ayunre has however been cut and everything has continued to develop since then.

Traditional textiles popularity in Oje Market

Because the people of Oje originated from Oje Ile which is very close to Ilorin, so they trade in clothes, like Adire, Aso Ofi, Kijipa and that was how Delesolu also started selling these materials. It was during the Egungun festival of Karinbuka, a war masquerade, that our Baba Latinwo and Delesolu decided to have masquerade and which they died. The name given to it is called Baba Agba. The duo of Latinwo and Delesolu said if they passed away, their children should be using the masquerade to celebrate their remembrance, and it is during the course of celebration that the house wives would gather with a uniform dress "Egbejoda" and they would be sweeping and singing.

History behind the septuagenarian crocodile

Many things were lost in our tradition in those days when the Oyinbo people came. There was a place they called Baale Oje where they were breeding crocodile. That was where they brought the first crocodile around 1820. It was in 1840 when the Are Ago Iba Oluyole was installed that this second crocodile was brought after the first one was taken away. But it is not true that the crocodile is a mysterious one. It is just a fact that God is only manifesting Himself through it. Many people do come to Igbejo Delesolu where the crocodile lives to see God's favour, propitiation and solution to their problems. The barren who want child bearing, the sick, the pregnant ones who want safe delivery would bring chicken which is its favourite food and throw at it. Some of them would buy goat and throw it to the crocodile. It will devour it ravenously.

If one is not careful, it could jump up to catch the chicken or the goat with the giver's hand, particularly if it is done to tease it. Miraculously however, some people do come back to give us testimonies that their prayers have been answered after appeasing the crocodile. There was a day I was sleeping on a mattress at the Igbejo when one of my people just led a woman to where I was and said she wanted to see me. She said she had been here to seek childbearing favour from the crocodile and she had got a baby and so wanted to appreciate. I told her that neither the crocodile nor I gave her the child, but God who used the crocodile.

She said she wanted to give a present to the crocodile in appreciation for the answered prayer, but I said that such belief was erroneous. I however said if I should say that she should not give the chicken to the crocodile, it would amount to denying it the food. At times, people would come with prepared food and drinks and dance in the compound, happy and excited that our crocodile had solved their problems for them. The fact, I must tell you, is that such belief is in their contemplation. God might have been working wonders on people through it but as its owners, we do not believe it has any supernatural power.

That crocodile that you saw was brought to the Igbejo Court in 1940 after the first one was bought away by some White people. Since then, it has been with us in this compound. The Oyinbo people loved seeing it and feeding it with all sorts of food. I will soon turn 75 years of age. I grew to know that crocodile as you can see. It had been in existence before I was born. So, it is about 78 years old as you can see it. Historically, our fathers did not have any thing of worship they were doing to the crocodile. It was not taken as a god. Only what they usually did was to go and inspect it in its abode to ensure that it had not died. In some distant past before its house was cemented as you saw it, the crocodile used to crawl out when there was heavy rain. We would start searching for it till we would see it in the muddy gutter nearby, and then bring it back into its house.

Certain year, we found it in a gutter at Ojo Ibadan compound around here. The bottom line and fact about the crocodile is that it is not a god. We don't worship it as being speculated by many people. It is just a pet cherished by our forefathers and which we are also preserving till today. In terms of constituting danger of harm to the people, it is not unnecessarily angry unless it is provoked. Ordinarily, when our children play football and it dropped into the crocodile's house, the elderly ones would quickly try and find a way to remove it.

One mysterious thing about the crocodile is that if it is not fed with any food at all, nothing will happen to it once there is water in its house. It majorly lives on water. Whenever chicken is thrown into its house, it devours it whole without leaving any trace of even feathers.

Sickness and treatment

The crocodile, the Mogaji said, never got sick such that they would need to apply any medication on it. "It has always been there quiet, hale and hearty in its habitat. We have never had any course to seek veterinary attention for it. Maybe that is one of the reasons people think that it is a mysterious animal", Mogaji Yesufu told New Telegraph.
[New Telegraph]