Strange/ Bizarre News
Afghan Muslim Who Converted To Christianity Escapes Deportation From Sweden By Weeping Inconsolably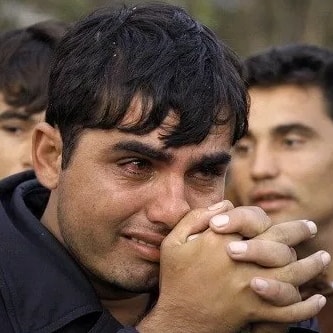 An Afghan man has escaped deportation from Sweden for the 2nd time.
35-year-old Hossein Muhammadin whose asylum application was rejected, has avoided deportation to his home country.
"Inconsolable crying" on the part of a grown-up Afghan man slated to be sent back to his native country had effectively stopped his expulsion, the newspaper Dagen reported.
According to Dagen, the 35-year-old  had previously applied for asylum in Sweden, but was rejected and was facing expulsion.
Muhammadin claimed to be a Christian convert, whereas the Swedish authorities didn't accept his explanation and decided he was to be sent home.
This past weekend, Muhammadin was to be flown to Afghanistan's capital, Kabul, but the flight was interrupted before the plane took off, a fellow member of the Lidköping Pentecostal Assembly told Dagen, attributing this to Muhammadin's breakdown.
"We believe this was a panic attack that hit him on board. He cried relentlessly and shouted, so that they had to disembark him," Rolf Wernersson told Dagen.
According to the newspaper, the Afghan man is now back at a migrant center in Kållared outside Gothenburg.
By their own admission, his friends at the Pentecostal assembly will attempt to have his asylum application reviewed, following the breakdown incident.
"We will try to find out what we can do to keep him in Sweden. Perhaps we can use his breakdown episode as a new circumstance," Rolf Wernersson said.
According to Dagen, a previous attempt to deport Hossein Muhammadin in April failed for reasons unknown. He was also reported to have appealed his rejection several times.
Sweden's Afghan diaspora numbers over 44,000 people and has been estimated to have grown exponentially during the recent migrant crisis, in which Afghans constitute a high percentage alongside Syrians, Iraqis and Eritreans.
Last month, a much-debated decision was passed by the Swedish Parliament, allowing a total of 9,000 Afghans billed as "unaccompanied refugee children" to stay in the Scandinavian country despite lacking grounds for asylum reasons and having had their previous applications rejected.
None of the 9,000 Afghans had valid documents at the time of their arrival, and 78 of them were found to have lied about their age.
This step, which by the Swedish government's own estimation will set the state coffers back $350m in the coming three years alone, doesn't apply to asylum seekers not labeled as children.
[Sources: Dagen , Sputnik]