Strange/ Bizarre News
Photos: Dead Girl Buried 2 Years Ago Resurrects, Returns To Parents House In Zambia, Says Family Buried A Banana Tree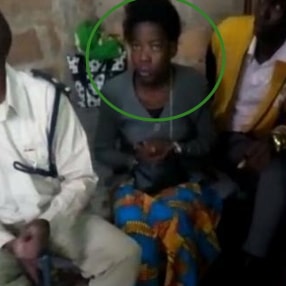 Zambian Girl Winnie Returns Home Alive 2 Years After Burial, Says Family Buried A Banana Tree
A mild drama took place in peaceful town of Masala in Ndola, Zambia yesterday when a girl buried by her family in 2016 suddenly returned home alive.
The girl simply identified as Winnie left everyone shocked as she was the one that was buried at Mitingo cemetery near her home 2 years ago.
However on returning home yesterday, Winnie told her family it was a banana tree that was buried and not her.
A check at her grave also confirmed that her family buried a banana in her place… How strange??.
See what they found in her grave yesterday…
Her parents who are yet to come to terms with her mysterious return had to take her to the police to conduct a DNA test to know if she was their daughter or some mysterious creature.
Her death and birth certificate and burial photos were also tendered to police to assist in investigation.
Meanwhile, the girl is still in police custody as her parents refused to take her home.
World of unending wonders…..