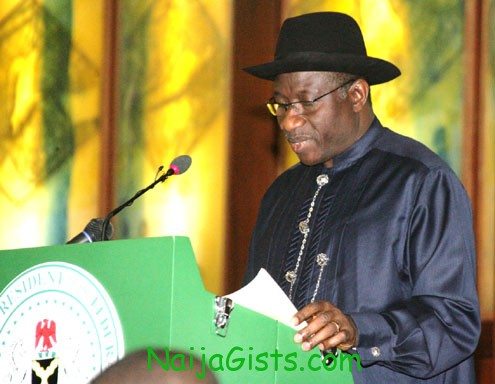 President Goodluck Jonathan Reading The Budget
Dec 14, 2011 – President Jonathan Removes Petrol Subsidy
President Goodluck Jonathan on Tuesday afternoon presented N4.749 trillion 2012 Budget proposal to a joint session of National Assembly while he carefully avoided comments on the contentious issue of proposed removal of petroleum subsidy in his budget speech to the National Assembly. Analysts however contended that the fact that there was no allocation for payment of subsidy in the proposal confirmed speculations that the President may have gone ahead to use his executive fiat to carry out the policy as have been variously speculated. Security  got the highest allocation of N921.91 billion in the budget proposal.
According to the President, the budget is anchored on the  assumption of oil production of 2.48 million barrels per day (mbpd) up from 2.3mbpd for 2011; benchmark oil price of US$70/barrel, a cautious revision from the US$75/barrel approved in the 2011 Amended Budget; exchange rate of NGN155/US$; projected GDP growth rate of 7.2 per cent and projected inflation rate of 9.5 per cent. naijagists.com
President Jonathan said the assumptions reflect "Government's determination to maintain prudence in the face of continued uncertainties in the external environment". He added that "based on the above, the fiscal deficit is projected at about 2.77% of GDP in the 2012 Budget compared to 2.96% in 2011. This is within the threshold stipulated in the Fiscal Responsibility Act, 2007 and clearly highlights our commitment to fiscal prudence as a way to create more space for the private sector".
Other highlights of the budget include government plans to increase the import duties on imported brown and police rice as well as wheat as from July next year, an action which will definitely see Nigerians pay more for the food products. But there are also incentives proposed in the budget for those interested in going into rice farming and production of cassava.
The N4.749 trillion budget proposal by President Jonathan is an increase of six per cent over the N4.484 trillion aggregate expenditure for the passing year.  Capital expenditure has an allocation of N1.32 trillion representing a 15 per cent increase over the amount approved in the 2011 Budget.  President Jonathan said emphasis will be laid on the completion of critical infrastructure projects in the new fiscal year.  As announced by the President in the budget speech, the aggregate expenditure comprises N398 billion for Statutory Transfers, N560 billion for Debt Service underscoring the real need to address the rising domestic debt profile, and N2.472 trillion for Recurrent (Non-Debt) Expenditure.  President Jonathan said government is determined to reign in ballooning public expenditure.
Allocations to some critical sectors of the economy are as follows: Security – N921.91 billion; Power [including Bulk Trader, Nelmco, and Multi-Year Tariff Order (MYTO)] -N161.42 billion; Works – N180.8 billion; Education [excluding Universal Basic Education Commission, Petroleum Technology Development Trust Fund (PTDF)  & Education Trust Fund] – N400.15 billion; Health – N282.77 billion; and Agriculture & Rural Development – N78.98 billion. Others are: Water Resources – N39 billion; Petroleum Resources – N59.66 billion; Aviation – N49.23 billion; Transport – N54.83 billion; Lands & Housing – N26.49 billion; Science & Technology – N30.84 billion; Niger Delta – N59.72 billion; Federal Capital Territory Administration (FCTA) – N45.57 billion and Communications Technology  – N18.31 billion. naijagists.com
"The 2012 Budget, as our collaborative effort, has taken the welfare of Nigerians as top priority. In an environment of global uncertainties and domestic challenges, the strong support of the National Assembly is invaluable for us to achieve our set developmental goals", said Jonathan. (pm news)