Celebrity Gossip
Rapper 50 Cent Mocks Rick Ross Over Florida Shooting – "It Looks Staged To Me"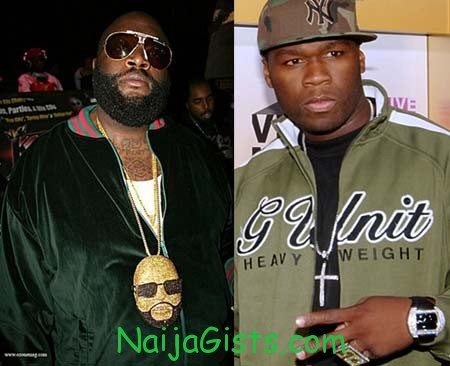 Jan 29, 2013 – Rapper 50 Cent Mocks Rick Ross Over Florida Shooting – "It Looks Staged To Me"
Yesterday NaijaGists.com broke the news of Rapper Rick Ross' assassination escape in Florida after a gunman allegedly fired several shots at his Rolls Royce Phantom car.
Another rapper 50cent mocked Rick Ross via his Twitter page few hours ago.
According to 50cent, Rick Ross's viral shooting news looked staged after his Roll Royce car got minor damage.
Hahaha that boy was spooked. I ride like OBAMA levl 6 built proof,bomb proof, you already know #SMSaudio
Hahaha f*t boy hit the building? lol it looks staged to me. No holes in da car – 50 cent said in a Tweet

It is obvious the two rappers are at war.
Do you think 50cent's is being insensitive with the above statement?