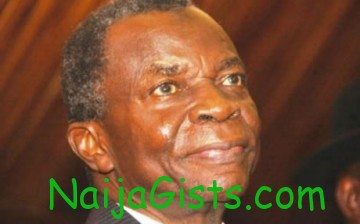 March 16, 2012 – An Abuja Federal High Court on Thursday stayed proceedings in the suit filed by the suspended President of the Court of Appeal, Justice Ayo Salami, against the National Judicial Council.
This is to allow the Court of Appeal determine whether it is the Federal High Court or the National Industrial Court that has the jurisdiction to hear the matter.
Salami had dragged the NJC and 10 others before the Abuja Federal High Court, presided over by Justice Donatus Okorowo, to challenge his suspension.
However, in its preliminary objection to the suit, the NJC had maintained that the Federal High Court lacked the jurisdiction to entertain the matter.
Rather, the council contended that only the NIC had the jurisdiction to hear Salami's suit.
The NJC, through its counsel, Chief Mike Ozekhome, maintained that the subject matter of the suit related to "or is connected with labour, employment, trade unions, industrial relations and matters arising from the workplace, the conditions of service including health, safety and welfare of labour employees, over which only the National Industrial Court has exclusive jurisdiction by virtue of Section 254c (1) of the Constitution".
In response to the NJC's objection, Salami, through his counsel, Chief Akin Olujimi, SAN, filed an application asking the court to stay proceedings in the suit and refer some questions arising from the matter to the Court of Appeal for determination.
Ruling on the application on Thursday, Okorowo granted part of Salami's prayers by referring only one question, 1(a), out of the five questions listed in the motion, to the Court of Appeal for determination.
Question 1(a) specifically asked whether it was the Federal High Court, or the National Industrial Court, that had the jurisdiction to hear the matter.
In a related development, Salami will in April meet with the ad hoc committee set up by the NJC at its last meeting to resolve all contentious issues towards his proposed reinstatement, in line with the recommendation of the Stakeholders Judicial Reform Committee.
Olujimi informed journalists that plans for an out-of-court solution to the dispute is still open.