Political News
Video: Mbaka Tenders Apology To Igbos & Peter Obi For Verbal Attack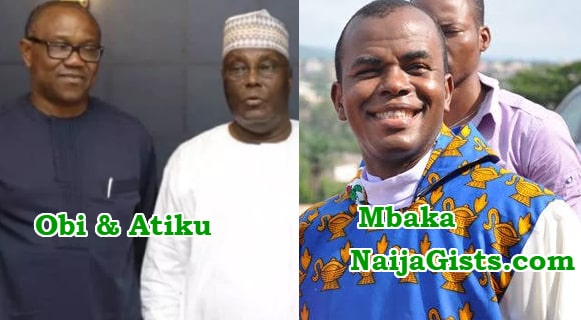 Adoration Ministry Enugu Spiritual Director Rev Father Ejike Mbaka has apologised to the Vice Presidential candidate of the Peoples Democratic Party, PDP, Mr Peter Obi, over the negative public remarks he made about him last Sunday.

Fr. Mbaka tendered the apology early Saturday before thousands of his followers at a vigil mass in Enugu.

Recall that the outspoken cleric had accused Obi of stinginess and political theatrics when he declined a public announcement of his donation to church at a bazaar sales last Sunday.

Mbaka also told him that he would be brought to shame in next year's presidential election for taking his stand on secret donation to the spiritual ministry.
Apologising for the derogatory remarks, the Catholic priest, explained that his intentions were not to embarrass the ex-governor of Anambra State but to seek the advancement of the church.
His words:
"On behalf of myself, Rev Fr. Mbaka Ejike Camillus, the Spiritual Director of this adoration ministry, Enugu Nigeria, I wish to apologise humbly to the former governor of Anambra State, Mr Peter Obi, who came here on Sunday for the bazaar. "In any way, shape or form my utterances and actions on that bazaar induced, initiated or prompted derogatory remarks, criticisms, unhealthy attacks to his personality, I didn't intend any of this.

"All I said on that day, I never meant to insult him or to bring his political career down. My intention is simply to support the work of God. "If my actions exhibited demeanour or any unhealthy attitude that provoked himself and those who love him which brought all the verbal attacks, I am asking whoever was, is, or will be hurt to please, please, and please forgive me."