Borno State News
52 Prostitutes & 10 Drug Dealers Arrested In Maiduguri Borno State Hotels & Brothels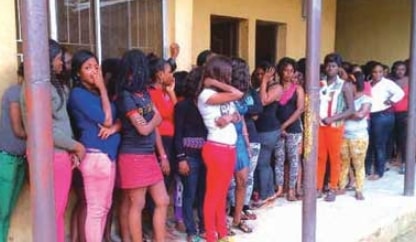 At least 52 prostitutes and 10 male drugs suspects were arrested in Maiduguri Wednesday after a raid on some hotels and brothels including popular joints in the capital city.
Borno State Government had last year inaugurated a committee headed by the State Antony General and Commissioner for Justice Bar. Kaka Shehu Lawan to rid the state off commercial sex workers, drug addicts and other forms of criminality which began to rear their heads up in the metropolis as the Boko Haram menace was subsiding.
The committee was also given the mandate to disband and ensure that all illegal motor parks operating within Maiduguri move to designated motor parks approved by the state government.
Wednesday's operation was carried out by a combined team of security operatives and the members of the Kaka Shehu led taskforce.
In a swift reaction of some the measure of government to cut increase consumption of drugs and degeneration of commercial sex workers in the metropolis; the state government has earmarked the notorious Galadima, (which is a safe haven to prostitutes and drug dealers and criminal in the metropolis) for demolition.
Gov. Kashim Shettima had earlier given a marching order to the residents of the area with an ultimatum of two weeks to evacuate or face the blades of the bulldozer. According to him, the decision was necessary to save the city from breeding new set of criminals after coming out of the horrific Boko Haram experience.
While some of the residents commend the governor for the bold initiative, some have however called on the government to rather come up with a comprehensive rehabilitation program beyond mere demolition of the area.
Abdullahi Tsoho Mainama , a resident, said destroying the area will be the best thing that government will do to solve the problem especially averting the return of such activities that will take one back to Boko Haram.
"These areas are very atrocious to our existence and development. No responsible government would allow such act that destroys a segment of its youth to a hopeless future.
"The ban on Galadima and other places where crimes are nurtured to the stage of maturity is sociologically significant and highly commendable.
"Borno state has suffered tremendously from Boko Haram insurgency, which led to the loss of several lives and property worth billions of naira.
"The losses can hardly be recovered in five to seven years' time.
"Boko Haram have tortured and killed many people, thousands of women were widowed, thousands of children were orphaned by the insurgency, as a result of this phenomenon, many people became vulnerable to atrocities.
"It's obviously known fact that after a war there will be unleash of large magnitude of atrocities in peacetime.
"All praise indeed is due to Allah, peace returned to Maiduguri and this is right time to put in place measures to contain such atrocities that could manifest, "Abdullahi said.
Expressing a contrary view, Shehu Abubakar advocated for a more holistic approach for the problem rather than a diagnostic approach.
According to him, those engaged in drugs and other forms of criminalities may be suffering from frustration and trauma. Therefore, a mere demolition would not have the desire impact or solution to the problem.
"What do you expect from traumatized and widowed women with two or three children who have no one to look after their well-being and life is becoming more difficult for them day by day?
"These vulnerable masses turn to prostitution since this is the simplest option to earn a dime.
"What does one expect from a young lady who is orphaned and has reached puberty stage but has no one to finance her, to give her a penny.
"I am afraid these vices would later degenerate and come to our doorsteps if not backed by a relevant programme that would engage them in positive and meaningful activities that would add value to their lives," he said.
"A viable roadmap must be designed that is capable of taking care of our teeming youth in such areas, or the enactment of legislation and the enforcement of stringent laws against such vices," he said.
"I think the empowerment and other safety net initiatives for the vulnerable women and girls should precede the ban and demolition order.
"The brothels in Galadima and other places in Maiduguri cannot be there in vacuum; it was product of supply and demand by many including people in authority,"Abubakar noted.
Another resident of Jere recalled the failure of the initial ban order issued by the government in January 2017.
He said, "Government said it will not tolerate a situation where unregistered or unlicensed persons engage in such business that directly touches on the health of the citizenry.
"It was announced last year that all brothels and other spots where prostitution, immoral activities, sale and consumption of illicit drugs is taken was banned.
"Those engaged in the activities above particularly in Galadima, Gamboru, Moduganari, Wulari, Hot Bite, Baga Road, Mairi, London Ciki, Artillery and along Giwa Barracks were also banned.
"Similarly, unregistered chemists and patent medicine stores were warned to properly get registered in a bid to control spate of illicit drug use by our youths.
"Unfortunately, they exempted military and paramilitary formations and Mammy Markets as provided by the liquor business prohibition law 2000. The ban never saw the light of the day as these activities resurfaced within one year," he said.
At the moment, the drug war between the authorities and the dealers and commercial sex workers is still a far cry to success in Maiduguri even as Maiduguri is recovering from the Boko Haram insurgency.