Cross River State News
Bernard Ogar, Unical Math Graduate Who Ran Mad After Losing Job Rescued Along With Wife & 3 Children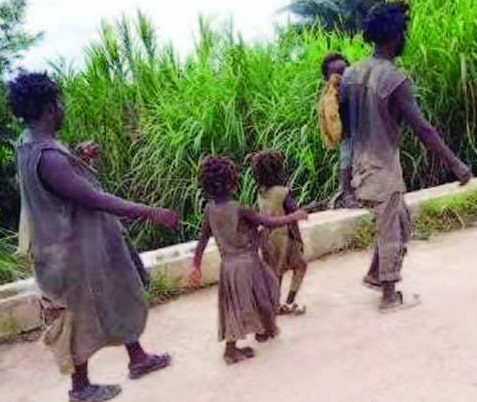 By Mudiaga Affe, Sunday Punch
Bernard Ogar, Unical Mathematics Graduate Who Ran Mad After Losing Job Rescued Along With Wife & 3 Children
In this report by MUDIAGA AFFE captures the sad story of a mentally challenged family of five on a visit to the Federal Neuro Psychiatric Hospital, Calabar, where medical experts are achieving steady progress in their rehabilitation

An interaction with Mr. Bernard Ogar at the premises of the Federal Neuro-Psychiatric Hospital in Calabar, Cross River State, clearly shows that of a happy man, who possibly out of frustration, became a lunatic.

The photograph of Ogar, suspected to be in his mid-50s, and that of his wife, Blessing, as well as his three children namely – Joshua, Joy and Ebenezer – recently became an issue of discourse after a picture of the family of five was posted on social media by a corps member, Progress Oberiko, serving in the Ogoja Local Government Area of Cross River State.

Shortly after the photograph went viral, a rescue team from the Federal Neuro-Psychiatric Hospital in Calabar, swung into action and was able to take into custody the vagrant family from their make-shift tent in the outskirt of Ukpah in the Bekwarra LGA.
Popularly referred to as the lunatic family of five, SUNDAY PUNCH gathered during a visit to the Federal Neuro-Psychiatric Hospital in Calabar that it was only Ogar, who was mentally unstable. The wife and three children were normal.
But Ogar's situation, according to medical experts in the hospital, has been brought under control following his positive response to medications.
At the balcony leading to the male ward of the hospital, where the wife and children were fond of relaxing in the last one week, Ogar's face radiates with love for his family.
His face beamed with smiles, while his wife and three children laughed to every statement he made. You could immediately read from their mien that despite living as vagrants, Ogar had a closely-knit family.
The Head, Clinical Services of the hospital, Dr. Essien Ekpe, who conducted SUNDAY PUNCH round the male ward to see Ogar, with a strict warning not to take pictures, opened the conversation by asking Ogar how old he was.
Ogar, who spoke with our correspondent in flawless English devoid of Nigerian accent, said, "I cannot be specific, but I should be between 70 and 80 years." Swiftly, the wife jocularly interjected, "Darling you are not up to that." She, however, also did not state his age.
When asked what brought about the bond in his family, Ogar stated, "They should love me, and I believe the world should be all about love."
Narrating the little history already gathered about Ogar, Ekpe disclosed that the fast-recuperating lunatic (Ogar) was a graduate of Mathematics from the University of Calabar.
It was learnt that Ogar lost his means of livelihood about six years ago in Enugu but later relocated to Abuja, where it was alleged that one of his brothers died, which forced him to relocate back home.
When he started exhibiting lunatic tendencies, it was learnt that members of his extended family rescued his first set of two children from him, but within six years of roaming the streets of Ogoja, Ogar and his wife procreated three more kids.
Hospital sources said it was only Ogar who suffered mental disorder, while his wife was only having "shared delusion" syndrome as a result of her husband's situation.
Ekpe, who summoned the medical rescue team that went to Ukpah to rescue Ogar and his family, said, "We got to know about this when we saw a post on social media that a family of five (vagrants) were just perambulating the area. After that, we got a call from the minister of health mandating us to do something about it.
"Immediately, the Medical Director in charge of the hospital directed me to arrange a team to bring them to Calabar. So, a crack team, led by Dr. Ndubuisi Ikedife, went to Ukpa and the whole family of five were brought here. The only altercation we had was the man, who though resisted, but was not violent. It was as if he had taken the vagrancy as a way of life.
"Reports reaching us indicate that he was a comfortable person in one small tent in a bare land. He had an attitude of not receiving anything from anybody, not even from those who wanted to help. He does not accept money but could direct one to where to buy food for him and he will accept the food.
"On getting to the hospital, we got more information regarding his history. We were told that he is a graduate of the University of Calabar; he read Mathematics. He was somewhere in Enugu State doing business and was doing well with all the indices of a progressing man.
"The family was intact. Somewhere along the line, it was learnt that the brother died and he lost his job – that was where his deterioration began. He was said to have relocated back to the village and he started living like a lunatic. The family found out and collected the first two children from him, but he still went on to procreate and that was how he gave birth to three. They have been living happily as vagrants.
"They are not all mentally ill, it is only the father that is mentally sick, but because of his influence, he wielded some power on them and they had to follow him all over the place the way he wanted. Otherwise, the children are like every other children jumping about with curiosity. The wife has been very quiet.
"At first, we thought she was very secretive, but further interview with her showed nothing. In just one week, the family has done very well. The man has become less delusional, but we are still keeping him because we noticed a form of over-valid idea."
The leader of the rescue team, Dr. Ndubuisi Ikedife, also disclosed how Ogar was rescued.
"On getting to Bekwarra, we first contacted the corps member who posted their pictures on social media. We also met with the village head who helped mobilised the youth to assist us in rescuing the family. They had a land where they lived. It is a well maintained land, which according to the village head was his father's land.
"We learnt that the first two children were taken away by the sisters and that when he came to the village he destroyed the father's house with the claims that a grown-up child is not supposed to stay in his father's house. We noticed that they had well packaged and clean kitchen utensils such as plates. We told him why we came but he turned down our gesture. We had to sedate him and the wife became agitated, we had to do same to her but the children were just quiet and obeyed what we told them.
"The traditional ruler told us that government or philanthropic individuals could build a house for him at the spot he was 'arrested' because it is his land," he said.
When asked what the next step could be after rehabilitation, Ekpe called on government and well-meaning individuals to provide shelter and means of livelihood for the Ogars.
"It is left for the government. The same government that showed interest in their rehabilitation should also show interest in resettling them because that will be the only thing that will help maintain the stability. He is becoming very stable and in just one week, he has done tremendously well.
"What will sustain them are good rehabilitation facilities from government. We would assist in the reintegration; but first, they must have somewhere to stay. These are the things needed to bring him back to normalcy," he added.
The state Commissioner for Health, Dr. Inyang Asibong, who recently visited the hospital, was quoted to have said the family was in stable condition and responding to treatment.
She said, "The family will be rehabilitated and reintegrated into the society with continuous medical care and social welfare."
So far, members of the lunatic family of five who were brought to the hospital with dreadlocks now have their hairs shaved. They also now put on neat clothes.