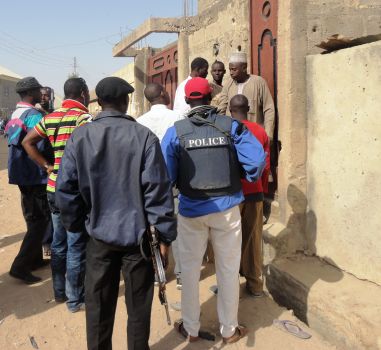 Feb 24, 2012 – Boko Haram Latest Attack: 4 Killed In Kano Mosque
Some suspected Boko Haram militants late Friday shot dead five Muslim worshippers at a mosque in the Nigerian city of Kano, where 185 were killed in attacks last month, police and witnesses said.
Two gunmen on motorcycles entered the mosque in the Tudun Maliki area of the northern city during evening prayers and opened fire, killing five people, including the head of a state-funded local vigilante group.
"Two gunmen on a motorcycle opened fire on a congregation in a mosque around 6:30 pm (1730 GMT) and killed five people," Kano state police spokesman Magaji Majia said.He refused to speculate on who was behind the attack.However, witnesses blamed Boko Haram, saying the vigilante chief was the chief target.
"They came on a motorcycle just after the prayers while people were still in the mosque," said one witness, Yahuza Baba.Baba said one of them "jumped off the motorcycle holding a Kalashnikov rifle, shouted 'Allahu Akbar' and opened fire on people in the mosque.
"He said there were around 30 worshippers inside the mosque at the time."It is clear the attack was carried out by Boko Haram, and Sule Kwaram (the vigilante head) was the primary target," said another witness, Baffa Hayatu.Local vigilantes have joined the special security unit set up to curb Boko Haram attacks in Kano following the January 20 deadly attacks claimed by the sect.
In Gombe, Gunmen suspected to be Boko Haram extremists also Friday launched simultaneous gun and bomb attacks on a prison and a police station in the northern city of Gombe, a jail guard and a resident said.
The attackers staged what residents said appeared to be coordinated attacks on a main prison where some Boko Haram members are believed to be held, and on a nearby police station.
"We are under siege. A large number of gunmen have encircled the prison, shooting and detonating explosives. It is clear they are Boko Haram," a prison warden told AFP from inside the central prison in Gombe city.
A resident, Ibrahim Yau, said gunshots and explosions rang across the city for over an hour."There has been shooting and bomb attacks at the district police station in the centre of the city, and also the central prison," he said.
The prison overlooks the police station and both are situated near the palace of the tradition Muslim leader, the emir, in downtown Gombe city, the capital of a state that goes by the same name.