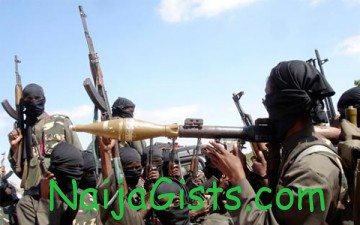 Jan 3, 2013 – Boko Haram Latest Attacks In 2013: Gunmen Destroys Government Offices, Police Station In Adamawa
Suspected Boko Haram gunmen have attacked and razed the Song divisional police station and local government secretariat in Adamawa state.
It was the fourth such attack within a week by armed men against government symbols in the state.
Last week, gunmen attacked Maiha, also in the state, on 28 December, burnt down a police station and freed prisoners. They also attacked Fufore and Hong local governments.
The latest attack bore a striking similarity in the targets of the marauders.
A resident of the town said the attack occurred in the early hours of Thursday.
"The police station and part of the one-story secretariat building were burnt by the gunmen, who also attacked a security check-point on the Song-Yola road,'' he said.
The source said that an old woman and a boy were hit by stray bullets in their home near the police station.
"Dada Audu, an 80-year-old woman with her grandson of about 15 years were hit by bullets and are feared dead,'' he said.
Contacted, the Adamawa police command Public Relations Officer, Mr Mohammed Ibrahim, confirmed the attack but gave no details.
Ibrahim said he was heading to the location.
[PM]