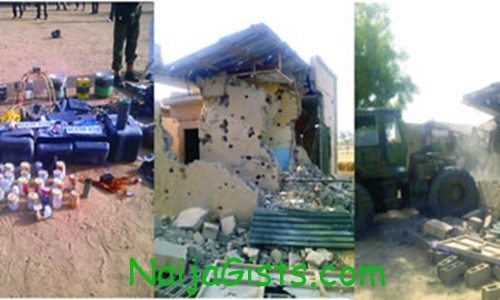 May 19, 2012 – Bomb Production Factory Discovered in Jos
Police in Plateau have once more made a shocking discovery of a major bomb production factory in the city of Jos, Plateau State, Nigeria.
According to AFP reports, Security forces found weapons and bomb-making stocks during a house raid Saturday in the violence-plagued central Nigerian city of Jos, police said.
"There was a bomb factory that was discovered in Rikkos," police spokesman Samuel Dabai told AFP, referring to a district in Jos.
Army and police officers leading the raid discovered rifles, ammunition, chemicals and fertilizers.
Authorities promptly destroyed the explosive equipment, as well as the entire house.
"We are not suspecting anybody yet but have started investigating," Dabai said, adding that no one had been arrested.
Jos is the capital of Plateau State. The city sits between the Christian south and Muslim north and is regularly shaken by religious and ethnic violence.
In recent months, bomb attacks have increased in Nigeria, with many blasts attributed to the Islamist group Boko Haram.