Political News
Bosnia Elect 3 New Presidents In Peace Deal To End Tribalism & Ethnic Divides …Presidents To Rotate Seats Every 8 Months
Bosnia Elect 3 New Presidents In Peace Deal To End Tribalism & Ethnic Divides …Presidents To Rotate Seats Every 8 Months
Bosnia today swore in its three new presidents with all eyes on Serb nationalist Milorad Dodik, who will be the first to take the helm of a government driven by ethnic divides.

The three men will rotate seats every eight months under the complex peace deal that ended Bosnia's 1990s war and split power between its three main groups: Bosnian Muslims (Bosniaks), Serbs and Croats.

In October, voters chose nationalists to represent the first two communities, in a sign of how tribalism continues to shape politics more than two decades after the war.

The three men took their oaths inside Sarajevo's Presidency building before several dozen ambassadors and politicians.

Dodik, a pro-Russian politician who is sanctioned by the US, will co-lead with Bosnian Muslim president Sefik Dzaferovic, who hails from the nationalist conservative SDA party, and Croat president Zeljko Komsic.
Komsic, a Social Democrat, is an outlier among the two nationalists and has called for a "Bosnia of citizens" that would transcend communal divisions.
But he is already facing attacks from the main right-wing Croat party that accuses him of betraying his people and now threatens to obstruct activity in parliament.
"It is currently very difficult to find a common denominator between Dodik, Komsic and Dzaferovic for constructive work," Bosnian political journalist Ranko Mavrak said in a radio interview.
"These three will have to decide whether they want to act as a body that seeks points of agreement or creates problems," he added.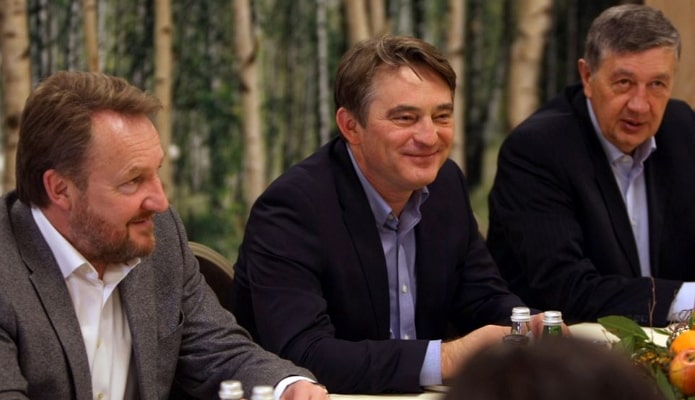 While the Dayton Peace Accords that designed Bosnia's power-sharing arrangement ended a devastating war, critics say the system has entrenched communal divisions and hampered effective governance.
The country's unwieldy government is further complicated by two separate administrations in its highly-autonomous sub-regions: one for Serbs and one shared by Croats and Bosnian Muslims.
Those so-called 'entities' are strung together by weak central institutions.
Dodik's elevation to the top office could mark another blow to the fabric of a country he has previously skewered as a "failed concept."
The firebrand led Bosnia's Serb-run half for over a decade and periodically threatened to hold a referendum on its secession.
Last year, the US placed him on a blacklist for undermining the country's peace agreement.
The 59-year-old seemed to soften his tone slightly after he was elected to the national presidency, saying he wants to work with Bosnian Croats and Muslims "in the interest of all."
On Tuesday he repeated his assurance that he did not want to "act to the detriment of anyone" and wished for "effective cooperation".
Political analyst Tanja Topic said the politician appeared to be making a "conciliatory gesture," though "it is still difficult to say whether Dodik will be constructive and whether he will work in the interest of the state."
A day earlier, Dodik had repeated his demands to undo parts of the Dayton Peace Accords, including shutting down the office of the High Representative — an international envoy that has been sent by the UN since 1995 to oversee the peace deal.
"My policy is not changing, it's just my workplace that's changing," he said on Monday.
Among ordinary Bosnians, there is little hope for major changes in a paralysed political system that has allowed corruption to flourish and stalled economic reforms for years.
Unemployment affects up to one third of the country, where large numbers are migrating abroad for work.
"There's nothing more to expect here," said Almir Korjenic, a 32-year-old applying for a work visa at the Slovenian embassy, summing up a widespread sense of political fatigue.
"(The politicians) fought each other before the elections to position themselves well after the elections and resume looting the country," he said.
(AFP)