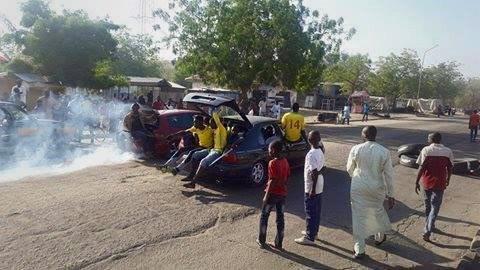 June 18, 2015 – Civilian JTF Member Working For Boko Haram Killed 63 In Monguno Borno State
A mass of home-made explosives, found at a deserted Boko Haram post has exploded, killing 63 people in Monguno, Borno State.
Eyewitnesses and security sources said a member of the Civilian JTF took an abandoned bag filled with improvised bombs at one of the deserted camp of Boko Haram near Monguno.
Recounting the Tuesday blast which occurred around 5pm, a source said: "members of the gallant Civilian JTF and Boko Haram fighters had a clash and the youth subdued them at the outskirts of the town.
"It was when the Boko Haram fighters were running that they abandoned an ammunition bag inside which were the Improvised Explosive Devices (IEDs) which turned out to be a booby trap
"One of the CJTF Members, suspected to be working for the terrorists, took the explosive device and came along with it to the town's populated market against several warnings from his colleagues, who never suspected that a booby trap had been laid on them. That was when it exploded in the market with hundreds of traders around."
The explosion also left many persons injured.
Another source from the Vigilante Group of Nigeria (VGN), Idrisa Bukar,said on telephone that a group of Civilian-JTF men went on routine patrol along Monguno-Marte route when they saw the bag at a deserted Boko Haram camp.
"When they found the bag containing what later turned out to be improvised explosives, they brought it to Monguno where people gathered to take a look at it. As they were busy fiddling with the content of the bag, the bombs went off with a massive blast that killed about 63 persons and injured dozen others.
"It was really a very sad incident that affected many families. Most of those affected are young men and few women", Idrissa said.