Abia State News
Fulani Herdsmen Cut Off Business Woman Fingers In Aba While Attempting To Behead Her..Please Help Esther Nmecha
Ogbonnaya Ikokwu, Metro Plus
Fulani Herdsmen Cut Off Businesswoman Fingers In Aba Abia State While Attempting To Behead Her..Please Help Esther Nmecha
A victim of herdsmen attack in Aba Abia state,  Miss Esther Nmecha, has solicited financial assistance from good-hearted Nigerians to enable her to settle her hospital bills.

Nmecha is currently battling for survival from the injuries she sustained from an attack by suspected armed herdsmen on Sunday, March 31, 2019.

Narrating her ordeal, she said trouble started around 4pm on the fateful day when herdsmen encroached on her business premises along Peoples Road, Ogbor Hill, Aba.

She said an appeal to the invaders to leave the premises fell on deaf ears as they threatened to kill her.
Nmecha stated,
"In making real their threat, one of the Fulani herdsmen brought out his machete and targeted to cut my neck.
"It was in an attempt to defend myself that he missed his target and cut off my four fingers.
"I was rushed to the Police Clinic at the Central Police Station, Aba, where they immediately referred me to the Aba General Hospital as a result of the critical nature of my case.
"But due to paucity of funds, my treatment has been stopped, because I am unable to raise the N60,000 deposit demanded by the hospital.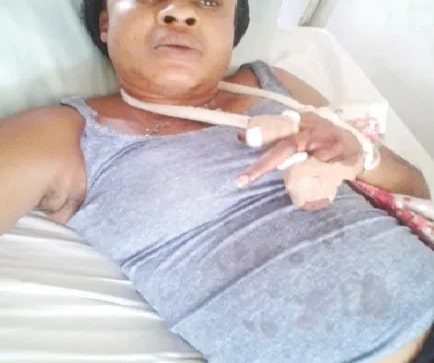 "I'm appealing to all Nigerians of goodwill to come to my aid and help me to raise the N60,000 deposit being requested by the hospital to enable me to continue with my treatment."