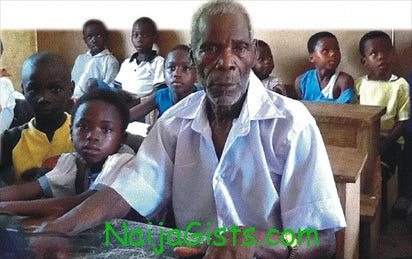 Pa Tete Allen
Jan 1st, 2012 – Meet 90 Year-Old Primary One Pupil,  Pa Tete Allen
90 year-old Pa Tete Allen is on the verge of putting Nigeria in the Guinness Book of World Records for being the oldest man to ever start a primary education.
People that don't have people to send them to school are helpless. President Jonathan should do everything to help the helpless; he should as the president of this country identify such people and provide the wherewithal for them to go to school" – Pa Tete Allen, (via an interpreter)
An editor was watching television one morning last October when his attention was drawn to a most unusual human interest story. A 90_year_old grandfather named Pa Tete Allen, who hails from Nembe Local Government Area in Bayelsa State, had just enrolled in Primary One.
Intrigued, he whipped out his smart phone and took the details down. Pa Allen was shown in a classroom with children. When asked his reason for becoming a school pupil for the first time in his life at that age, he simply said he was tired of thumb-printing instead of signing his own signature.
His story was presented to Board of Editors – it knocked out all nominees and he emerged as the Vanguard Man of the Year 2011.
South-South Regional Editor, Emma Amaize and the Bayelsa State Correspondent, Sam Oyadongha; a Delta Ijaw who knows Bayelsa like the back of his hand spoke with Pa Allen. On Thursday, December 8, Amaize joined Oyadongha in Yenagoa and they proceeded to the riverine maws of Nigeria's most aquatic state, Bayelsa, to encounter this remarkable man.
They spent two days getting the details in these reports. As they settled down to business in Ologoama, the village in which our subject matter was born, they discovered that they needed an interpreter to help them interview Pa Allen and other locals. Luckily, Mr. Willis Obiene, a past Chairman of the Ologoama Community Development Committee, CDC, volunteered to be their guide and interpreter.
An unusual man
Pa Allen is a tall, lean and Nestorian elder; a thoroughbred local (he confessed he had never travelled out of Nembe area since birth!).
His decision to enrol in school in September 2011 is easily the most important one he has taken in his life. It has done (and will still do) for him what all the other decisions he took over the years could not. He wanted to overcome his educational handicap, which most advanced elders of his age would simply ignore. Some crooked younger educated elements in his oil_producing Ologoama community had, for long, hoodwinked and cheated him because of his inability to read and write. He tells the story:
"As one of the elders of the community, if people bring documents for me to sign, I will be shown where they put my name for me to thumbprint and they will tell me how much money they brought to our community, you know we are an oil community.
Sometimes too, people will come and meet me and say that the community has collected XYZ amount of money and when I say I am not aware, they would tell me that I am not saying the truth because my thumbprint is on the paper, showing that we have collected the money.
"Also, people will come and tell me that the community was paid N50, 000 and may be the amount is more than that and because I did not go to school, I don't know what is written on the paper. In fact, the oil company brings money to the community and what some of the youths tell me is different from what was actually paid to us, so I decided to go to school to be able to write my name and sign my signature and also to know what was actually paid to the community, not small boys coming to blindfold me at my age because I did not go to school".
It all started when Local Government Chairman, Hon Sylva, embarked on mass mobilisation of the youth to embrace education. Pa Allen got the message and approached the former CDC Chairman, Obiene, with his decision to enrol. Surprised, Obiene asked him to go ahead. Today, Obiene himself who is about 50 wants to upgrade his own academic standing.
When he learnt about it, the Local Government Chairman offered scholarship to Pa Allen with a monthly bursary of N15, 000 to help him with his personal costs. Pa Allen enrolled at the State School, Ologoama, which has as its Headmaster, Mr Allen Sagbe (no relation of Tete's). He was allocated to Primary One. The teacher, Mr Ighoro Jaja, is exactly half Pa Allen's age, 45. Says Jaja in a candid assessment of his uncommon pupil:
"When he came, he didn't know anything about school, but I am surprised he started picking up in his studies and now, he can read from letter A-F and count 1-5. He is an old man whose brain and memory are already diminishing and cannot be compared to those of children, who are fast at catching up and learning in classroom. I had to take things slowly with him so that he can catch up with his classmates. Interestingly, he can read from A-F now, which shows he is progressing".
Pa Allen was appointed the Class Monitor. He helps the teacher to calm his classmates and enjoins them to be quiet and listen to the teacher.
The young pupils say they enjoy his sense of humour, but it is feared that the age gap between him and his grandchildren-age classmates may not augur well for both sides in the end, and hence the growing idea that an adult literacy centre to accommodate the many eager grown_ups who now want to go to school within the locality, is necessary.
Inspired
The four_month odyssey of Pa Allen on the turf of educational self-improvement has stirred a revolution of sorts in Ogoloama, the Nembe Local Government and beyond. Both of his wives, Mabel and Ikebumo, who have never experienced formal education, now want to join their husband in school next year, even though Mabel has problems with her sight.
Most of the adults in his family have opted for education next year. So will his closest confidant, 55 year_old Mr Cameron Isaiah. Many have realized that it is neither too late to acquire education nor is there anything wrong or shameful about being in the same class with tots.
There are excellent chances that more adult people around the country and the world will want to take up educational pursuits after reading the story of Pa Allen.
Already, calls are being made for adult learning centres throughout Bayelsa State. Hon Sylva (a cousin of Governor Timipre Sylva) said he had already commenced discussions with the Bayelsa State Ministry of Education on the matter. That is the power of one elderly man's courageous resolve.
Pa Allen is a dedicated pupil. Even though he is the oldest man in his village he does not need walking sticks to move about. In fact, he participates in march pasts just like everyone else.
However, his school attendance is not as regular as it should be, since, as an elder in his community, he still has to attend to certain social functions which do not concern typical Primary One pupils.
Fishing and hunting as his life_long occupations exposed him to activities that reinforce his physical fitness. He even bragged to our reporters that he was still ready to father more babies. His two wives eagerly support him. Many people living the so_called urban Westernised lifestyle, as early as 40 years of age begin to look for the aphrodisiacs to perform their marital duties. Not for Pa Allen.
Tourist attraction
Since the story of Pa Tete Allen broke, he has become a celebrity in his locality. He is now a goldfish which can no longer hide or move along the streets in peace and tranquillity. Obiene captures it:
"Yes, people have been flocking to this place; they are many. For instance, every Tuesday is our market day. After doing their business, market women from other towns come to see the man that started school at 90".
Hon Sylva also disclosed that the Minister of Education, Professor Ruqayyatu Rufai Alkali, as well as officials of the Guinness World Book of Records, are being expected in Ogoloama, Nembe Local Government Area of Bayelsa State, to encounter, perhaps the oldest man in history to enrol in Primary One.
This may just be the beginning of an unlikely stardom for a village man who lived his previous 90 years in total obscurity till he made that life_changing decision to go to school.
With that intuitive brainwave, and by personal example worth emulating, he has switched on the light for millions to find their way to educational enlightenment in ways no government propaganda machine can hope to achieve. He is liable to draw positive attention to Nigeria from around the world at a time this embattled nation direly needs it.(vanguard)