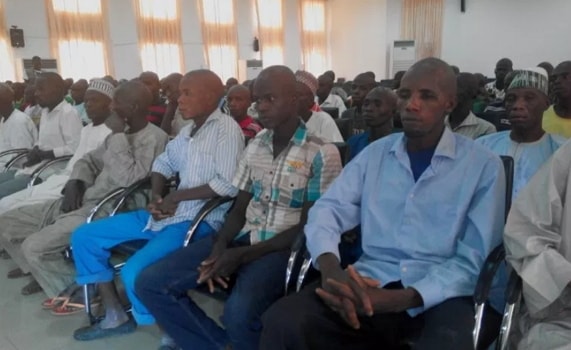 111 Boko Haram Suspects Freed, 113 Convicted At Military Court In New Bussa Niger State
A court set up by FG to try detained Boko Haram suspects determined over 100 cases this week.
In the cases determined on Monday and Tuesday at a military formation in New Bussa, Niger State, 113 persons were convicted for their involvement in the activities of the terror group.
The convicted persons were sentenced to various jail terms by three judges drawn from Federal High Court in the state.
111 suspects were set free because prima facie case was established against them.
They were recommended for rehabilitation before release.
All the cases involved defendants who could only speak either Hausa or Kanuri, thereby requiring the assistance of translators.
The ages of the suspects varied, the lowest being a 16 year-old Saudatu Zarhadeen, who was arrested at the age of 13 years by security agents who had gone to their home to arrest her husband, a suspected Boko Haram leader, but picked her in his absence.
The oldest was 73 years old Mamman Lawan, who was among five men convicted for concealing information about the activities of Boko Haram and offered members of the sect foods and other items.
Lawan and four others – Modu Bulama (40) Mallam Dupochi (50), Mallam Ali Mami (63) and Musa Mohammed Dawa (60) – were sentenced to three years on each of the four-count charge for which they were arraigned.