Benue State News
Bricklayer Who Killed Co-Worker With Digger During Robbery Confesses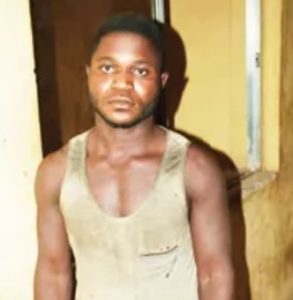 Bricklayer Who Killed Co-Worker With Digger During Robbery In Minna Niger State Confesses
A bricklayer who got arrested for killing his co-worker over the weekend has confessed.
ThankGod Emmanuel, a resident of Sauka Kahuta area of Minna killed his colleague, Tita Komla, a resident of Katampe area of Abuja to steal his money.
It was also learnt that the suspect engaged his victim in a physical combat, killed him with a digger, robbed him of his N47,000 and dumped his body inside the gutter.
To cover up his crime, the suspect called late Komla's brother to claim that he had been killed by unknown persons.
In his confession, Emmanuel said he killed Komla with a digger in a bid to steal his money.
He said:
"Komla did not know I wanted to rob him of his money. I killed him so that nobody will know that I stole his N47,000. I used digger to inflict injuries on his head and he died instantly.

"I least suspected that police will identify me as the one who killed him. Well, it's really unfortunate."
Follow NaijaGists.com on Facebook and Twitter.