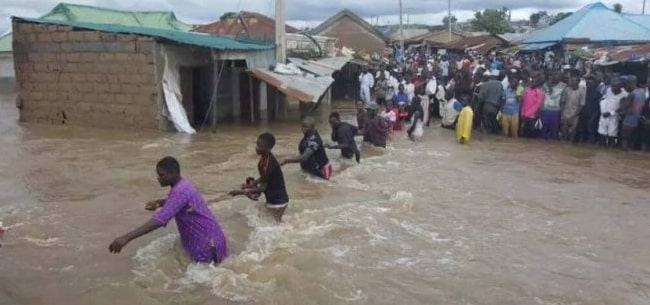 Death Toll Of Flooding In 4 Nigerian Northern States Hits 72
NEMA today said 53 lives were lost to flood in both Katsina and Kaduna States, while 30 others were missing in the last four months.

The North West Zonal, Coordinator of the agency Mr Ishaya Chonoko, gave the figures in an interview with the News Agency of Nigeria (NAN) in Kaduna.

According to him, the agency recorded 51 deaths in Katsina State, two in Kaduna State, while 30 persons were confirmed missing in Jibiya, a border town in Katsina State.

NAN reports that the floods occurred between May 3 and Sept. 8, affecting 29 Local Government Areas (LGAs) of the two states.

Chonoko said a total of 12, 041 persons and 262 houses were affected in Katsina State, while 3,775 houses and 7,929 farmlands were similarly affected in Kaduna State.

He listed the affected areas in Kaduna State as Abubakar Kigo road, Tudun wada, Malali, and Ungwar Rimi in Kaduna North.
Others are: Barnawa in Kaduna South; Karatudu, Narayi, Rido village, Gonin gora and Sabon Tasha in Chikun; Hayin Na'iya, Rafin Guza, Hayin Dan- Mani and Kawo in Igabi LGAs.
Areas in Katsina State included Malumfashi, Kafur, Bakori, Kusada, Kankai, Rimi, Musawa, Daura, Baure, Maiaduwa, Dutse – ma, Batsari, Kaita, Zango, Sandamu, Kurfi and Faskari LGAs.
Chonoko said the agency had distributed relief materials to victims of the flood in the state.
He said blankets, corn, rice, mattresses, cement and detergents were distributed because these were the immediate needs of the victims.
The agency attributed the flood to blocked drainages, construction of structures along water channels and illegal mining along river banks.
According to Chonoko, the incident came days after the agency, SEMA and the Kaduna State Environmental Protection Authority (KEPA) had issued an alert that some Local Government Areas in the states were likely to experience flash flooding.
He said the agency had always embarked on sensitisation campaign in flood prone-areas to prepare them.
Chonoko stressed that the campaign was undertaken because of the need to remind the residents on the need to relocate from flood-prone areas to safer places, in view of the predictions of Nigerian Meteorological Agency (NIMET).
He, however, expressed confidence that the Kaduna State Government had made adequate arrangements to cater for potential Internally Displaced Persons (IDPs) in the flood-prone areas.
19 Killed By Flood In Adamawa & Gombe State
Adamawa State Emergency Management Agency (ADSEMA) and the Gombe State Emergency Management Agency (SEMA) have confirmed the death of 19 people in floods.
Ten persons died in Adamawa and nine in Gombe.
ADSEMA Executive Secretary Dr Muhammed Suleiman, in an interview with News Agency of Nigeria (NAN) yesterday in Yola, said hundreds of domestic animals, including cattle, were also lost to the flood.
He said the deaths recorded were particularly from Yola South, Guyuk,  Lamurde and  Song  local government areas of the state.
Gombe SEMA's Deputy Director, Rescue and Rehabilitation Mrs Lamis Benjamin said four of the nine deaths were recorded in May following a downpour in Gombe town.
She said the remaining five deaths were recorded in Cham community of Balanga Local Government Area of the state in August also after a downpour.
The deputy director also said over 200 houses and numerous farm lands were washed away in Nyuwar, Jesu Cham in Balanga and Komta Ayaba in Biliri local government areas.
In Cross River State  flood destroyed more than 175 houses, rendered at least 3,000 people homeless, according to Mr John Inaku, Director-General of State Emergency Management Agency(SEMA).
The Rice Famers Association of Nigeria (RIFAN) in Kano State was counting its losses yesterday. Flood has destroyed over 5,000 hectares of rice farm in some local government areas of the state.
The RIFAN state chairman, Abubakar Aliyu, told reporters in Kano that the rice farms were affected in 10 local government areas of the state.