Imo State News
"Imo PDP Is Dead" – Okorocha Slams Atiku As He Visits Owerri Over Presidential Ambition
"Imo PDP Is Dead" – Okorocha Slams Atiku As He Visits Owerri Over Presidential Ambition
Ex-VP Atiku Abubakar has come under heavy attack over his threat to help PDP take back power from the APC in Imo State in 2019.
Governor Okorocha chided the former Vice President and PDP presidential aspirant to face his challenges and leave Imo politics alone.
In a statement by his Chief Press Secretary, Mr. Sam Onwuemeodo, Okorocha described Atiku's statement as an empty threat that can never be achieved.
The statement reads:
"The former Vice President should leave Imo and Governor Rochas Okorocha alone and face his worrisome challenges."

"And if he does not know, Governor Rochas Okorocha will defeat him in any part of the country, including his Adamawa State, in any election involving two of them. He does not therefore have what it takes to lead any struggle that will return the PDP to power in the state or the country in 2019. That promise was a false one."

 "the former Vice President was in Owerri for a meeting with the stakeholders of the PDP over his presidential ambition".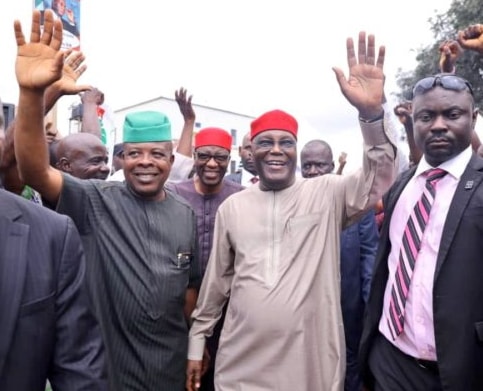 "While meeting with PDP stakeholders, he was reported to have told them that he would lead the struggle for the PDP to take over Imo and Nigeria in 2019. He also tried to run down Governor Okorocha and his government.

"What we do not take from anybody is blackmail against Okorocha's government. We would do our best to set the records straight. The former Vice President would have done his meeting without taking on the governor and the government he heads. And that is where we come in."

"In 2015, Okorocha took the soul of the All Progressives Grand Alliance (APGA) to merge with other parties that formed the APC and defeated two powerful candidates ofthe PDP and the APGA, even with the former having 'federal might' behind him. Interestingly Alhaji Atiku Abubakar was not in exile when all these happened.

"Imo PDP is dead. The monumental achievements of Governor Okorocha in less than eight years have destroyed the party, because it has no claim again to make before Imo people.

"When the PDP was in power, the Imo Airport was an eyesore, but today it has become an international cargo airport, with all the facilities available, courtesy of Okorocha's administration."