Birthdays
January Birth Month, Baby Facts : Personality Traits & Characteristic Of Those Born In The Month of January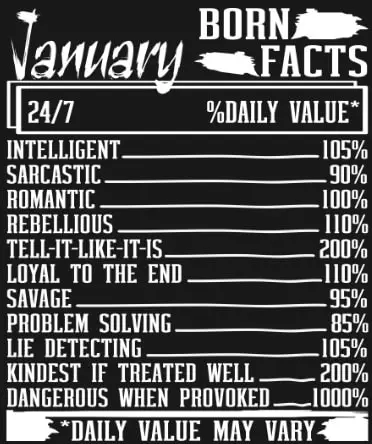 January Born People Facts : Personality Traits & Characteristic Of Those Born In The Month of January
January, the first month of the year, is a refresher which brings with it a feeling of newness. The foremost month is also home to a lot of births and this keeps us wondering what it means to be born in the month of January.
No doubt, people born in January are unique in their own way. They possess an amazing personality and are a force to reckon with. We sometimes get inquisitive about these intriguing individuals.
January Born People Facts: Personality & Characteristics
Born in January Personality
Lets learn and find out everything about those who have their birthdays in January. Below are the characteristics of those born in the month of January;
They are charismatic leaders :-
Anyone born in the first month is more than likely to be a leader. Apart from the fact that they came to the world in the first 31 days of the year, their innate abilities make them capable to lead people.
People are more inclined to follow January borns as they portray themselves with an appealing charisma. They are serious minded and are known to follow through with their plans until they achieve their goals.
They are hardworking and productive:-
January borns believe that only hard work can make them successful. They know they can get any job done with hard work. In any field they may be, they are sure to produce results that amaze every of their competitors.
Being ambitious people, work is very paramount to them and they prioritize their endeavors.  They are organized beings who do things using methods that are proven.
They are independent and analytical:-
People born in the month of January are self-reliant. They love to depend on themselves to put things right. They are responsible individuals who put their actions and attitudes in check if no one else doesn't.
January born people tend to analyze situations more carefully. They are very observant and keen when it comes to taking note of what goes on in and around them.
They are clever and creative:-
January babies are clever, intelligent beings who provoke thoughts wherever they go. They are likely to be brilliant and this plays a big role in their academics and career choice as they excel in whatever they do.
Those born in January love to create things that do not yet exist. They have a knack for using their imagination to make stuff. Their ingenuity helps them find solutions to problems that may arise during their lifetime.
They are highly attractive:-
January babies are mostly handsome and pretty. Their good looks makes them the center of attention wherever they may have found. They have the capability to make heads turn in their favor.
People born in January are fashionable as they love to dress up and look attractive. They draw eyes and have lots of admirers. They are very cute and often tend to stand out among the crowd.
They are lovely and sociable:-
A January born personality is a very lovely and likeable person. They are genuine people who know how to build long-lasting friendships and relationships. They grow to become loyal and romantic partners.
People born in the month of January are able to make everyone who they come in contact with happy. They love putting smiles on people's faces and they reflect warmth. They are also very attentive to the needs of others.
They possess mental strength:-
January born folks are mentally strong enough to withstand the struggles of life. Their natural resilience helps them to weather through tough storms. They are known to never give up and they don't break down easily.
People who have their birthday in January know how to handle pressure well. This also gives them the ability to work well under pressure. They depend on their inner strength to tackle the world.
They are quiet and reserved:-
January borns are normally quiet. They like to be alone most of the time. Since most turn out to be introverts, they are gentle and easy-going souls. They appreciate and love to dwell in peaceful environments.
They are hardly ever found engaging in demeaning activities as they place values above all else. People born in January love to think for themselves and they enjoy having their personal space and time.
They grow up quickly:-
January born children tend to grow up fast. They look very grown up even at their tender age. They attain maturity fast and this shows in their behavior as they act more matured than their actual age.
Because they grow up quickly, people trust them easily and believe in them. Their ability to grow up fast also showcases itself in several other sectors, for they are known to cultivate businesses and relationships properly.
They look very young when they grow older:-
January babies also appear to become younger as they age, for they look young when they are older. They are the types that look attractive even in their old age. Their looks can deceive people into believing they are a few years younger.
January borns live longer than expected, they are known to survive against all odds. They possess a staying power that keeps them healthy and strong throughout their lifetime.
They see work as fun:-
People born in January generally like see work as fun. They are more comfortable when engaged with professional activities. They are open to changes and exercise flexibility when required.
They don't like being idle and this makes them occupied most of the time. January born people are multi-tasking individuals as they can handle much work. They also love the fulfillment that comes with getting a task done.
They are very agile:-
People born in the first month are exceptional beings with a lot of physical strength. They are strong and can do strenuous work because they are physically fit.
They don't feel weak easily and can endure stress for a long period of time. They are smart, up-and-doing individuals who are always ready to take on new feats.
They show great talent in sports:-
January children have the ability to endure during physical activities. Naturally, they are inclined towards participating in sports. It's best when they are given an enabling environment which helps them grow such skills.
They love being challenged and sports is a good way by which they can prove themselves. Sometimes, January born people actually pursue a career in the sports field and go on to become sports men and women.
They are down-to-earth:-
January born people are humble and warm-hearted. They are not afraid to stoop so low in the presence of others. Mostly they will let down their pride for any plausible cause.
They are incredibly homely people who accommodate and make others feel at ease. People born in the first month are known to be down-to-earth in all their dealings. They will gladly serve, obey and learn at the feet of others.
They love to impact the lives of others:-
They love to impact the lives of those around them positively. They are driven by the happiness derived from serving people. They put others first in everything and do all they can to make living better for them.
People born in January are kindhearted fellows who show love and care to humanity. Most times, they become philanthropists who spread goodwill to masses and give out to less privileged humans.
Negative Traits Of January Born
People who have January as their birth month have a couple of negative traits which we have to be aware of. They are not too negative but, are part of the normal bad sides which everyone else has in general. Below are a few of them;
They can be hard to please:-
January babies tend to be tough guys who don't get satisfied easily. They seem not to be pleased with whatever they are offered. They are known to reject things which most people like but, as they grow up they learn to stop being choosy.
Oftentimes, their dissatisfaction also comes to play as they find it hard to please and make themselves happy. They can be very complicated and sometimes get angry with themselves when nothing feels appealing.
They are sensitive and stubborn:-
January children are known to be very sensitive beings. They can be  sensitive to a lot of things like weather, environments and at times, for no reason at all. People who deal with them have to be patient and understand that it's part of their nature.
They can be very stubborn. As much as they do not like to be called stubborn, they are adamant folks that don't change or alter their plans because others tell them to. They also tend to not give reasons for their resistance.
They have a hard time expressing their emotions:-
Oftentimes, people born in January usually have problems expressing their emotions. They are known to have deep emotions, but they find it hard to talk about them.
A good way to help is by teaching them in their childhood so when they grow they will be able to communicate their feelings effectively.
They are picky beings:-
People born in January have preferences in almost everything. They decide what they like and have their own tailored picks. Anyone who chooses to make January borns happy should learn to listen and see the world through their perspective.
As they age, they are likely to set standards and stick to them. They are particular about the kinds of friends they keep and the calibre of people they listen to. They do not associate or accept things that do not suit their style and taste.
They easily become jealous:-
January borns are jealous when their romantic connection feels threatened. Sometimes they fear that a loved one may meet someone who is better and prettier than they may be.
They also get bombarded with feelings of inadequacy which makes them think that they are not as good or privileged as their counterparts. When they let negative thoughts into their mind, it takes a bad toll on their dispositions.
They take time to recover when hurt:-
People who have their birthdays in January have the tendency to take time to regain composure when hurt. They find it hard to get themselves back on track once they are hurt by someone or something.
As the emotional beings that they are, any hurt emotions weighs them down and truncates everything at that point in time. Most times, these people try their best to guard their hearts against bad people.
They easily get bored:-
Born in January individuals get bored when they no longer experience anything new. They get tired of routines which involve doing the same things over again. Mostly, they are not easily impressed by anyone or anything.
These January borns have trouble describing their actual feelings concerning things that matter the most to them. They tend to keep mute about some unfavourable situations. At times, they are unable to articulate what they intend to do and this makes them hard to understand.
They are prone to colds:-
Although January borns are resistant to most illnesses, they have a tendency to feel cold even when most people do not. This may be as a result of their sensitivity to subtle climate changes.
It is a good practice for them to put on warm clothes during the cold weather. They have to be cautious of their likelihood to get overwhelmed by cold.
They get excited and tense easily:-
People born in January sometimes become nervous when they are so unsure and clueless. They get worked up with anxiety and this makes them impatient when they encounter delays or if a person shows up late.
Supposedly, their muscles also tense up when they are stressed and when they can no longer endure in some circumstances. They get upset especially when an external factor triggers it within them.
They can be very critical of others:-
People born in January like to criticize others. They have a way of speaking out when something goes wrong. They can sanction and lash out at other people when they feel the need to.
While correcting the mistakes of others, they can come off as being harsh. They tend to place high expectations on other people's efforts and when disappointed, they can be verbally unkind.
Conclusion
I believe we have learnt a lot about those who are born in the first month of the year, January. Knowing both the good and the bad about them will help us deal with them better.
Read interesting facts about people born in January, February, March, April, May, June, July, August, September,  October, November, December.