Birthdays
February Born Baby, People Facts: Love Life, Personality Traits & Characteristics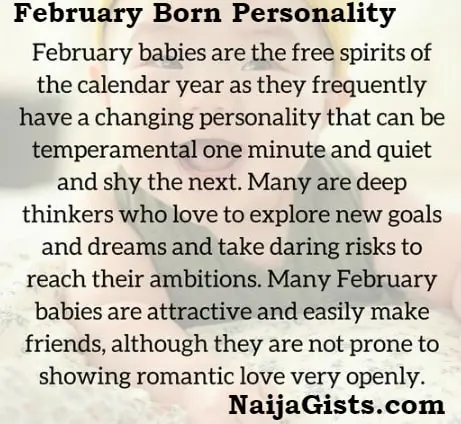 February Born People Facts: Love Life, Personality Traits & Characteristics
February, the shortest month, is associated with love and romance. Valentine's day and birth of the world's crazily fun people occurs in February. Cheerful kids with sweet dispositions are born in this spectacular month.
Whether you are a February born or you have friends whose birthdays are in the month, you'll want to learn about these great people.
10 Facts About February Born People, Babies
Here are some of the characteristics of a February born personality;
They are original and authentic
People born in February are the most authentic and real friends you should ever have. They are true to themselves. They love to create their own paths. They thrive better in environments that give them the freedom to develop their original self.
They are very original as they love to wear, eat and do things that suit their personality. They will never try to imitate or copy someone else lifestyle. They define and stick to their preferences.
People who are born in the month of February do not always reveal everything about themselves. There's an aura of mystery around them. While they may be honest, they tend to hide many things about themselves.
Mysteriously, this makes them even more attractive to the opposite sex. It's difficult to guess or find out what is in their mind. But when they get to trust a few people, they will reveal their inner self to them
They are intelligent and creative
February born folks are known to be highly creative. They are fond of making something out of nothing. Their brain power comes to play as they creatively find ways to solve problems. They are very clever and are capable of getting straight A's in their academics.
People born in February sound so intelligent and are known to recognize and grab opportunities fast. They seize their chance promptly and have the ability to capture the attention of the crowd with the work of their brain and hands.
They are quiet and humble
Babies born in February are often very silent. They are quiet as they have an habit of thinking before speaking. They are fond of noticing everyone around them and determining the perfect time to make a contribution.
No matter how rich or famous a February born may be, they will forever remain humble. They will never carry their shoulders high. They don't brag or try to intimidate others with their achievements.
They are attractive and sexy
Pretty February! They are very attractive to people who come in contact with them. Often, people would be caught staring at them for they are lovely to look at. It's easy to spot February children among the crowd.
February borns behave and look sexy. Their partners would be intrigued by them as it is not hard to fall in love with them. They are very skillful when it comes to seduction for their partners always dance to their tune.
They are unique and smart
People born in the month of February stand out. They are obviously very unique. They are different from everyone else. Their dress sense, looks and charisma are all unique and differs from other people.
They love being the center of attraction wherever they are found. They crave to be discovered and this is why they do everything possible to make sure that they shine to the world.
February borns love to invent new things. They feel fulfilled when they think up new ideas that are viable. They love to suggest better ways of performing tasks. They harness the power of their imaginations most of the time.
They think out of the box and do not like routines. They don't like status quo and this makes them weird to people who do. They constantly create unique things to help humanity in their own little way.
They are kind-hearted and benevolent
People born in February love to give to others. They are kind and very compassionate. They believe in doing everything they can to help the masses live a better life. They assist everyone who need help.
February born are ultimately generous. They love to give their time and resources. They are born philantropists who love to put smiles on people's faces. They help others without expecting anything in return.
They have a strong will power
People born in February  will do what they put in their mind to do, for they possess strong will power. They believe in their abilities. They have the believe that they can weather the storm and get the best out of every situation.
They know that having a strong will can make them become successful in life. They push through during difficult times. They think positively and are sure of the fact that they will attain their desired goal.
They love entertainment and leisure
People born in February love to have fun. They like to be entertained and more importantly, they love to entertain people. They don't like any dull moments for it doesn't seem well to them.
They love being free and being happy as they are the free spirits of the year. They love to have their time and freedom to themselves. They are more likely to be celebrities. They may become artists who excel in the arts and entertainment industry.
10 Things To Expect When In A Relationship With A February Born
They are one of the best people to be in a relationship with. These are 10 awesome things to expect when in a relationship with a February born;
People who are born in February are one of the most special creatures on Earth. They do not give fake impressions of themselves. And they won't lie about who they really are.
They are not afraid to show you their flaws and imperfections. They will come clean to their partner. They do not believe in bending their ways or changing their beliefs in order to fit in.
People born in February know that it's not good to rush into a relationship. They think well over it and make the best choices ever. They don't jump into anything quick because of the consequences.
They take things slow and steady and this means they and their partner will last long together. They take a lot of time and patience before jumping into anything quick so as not to regret their decisions later.
People born in the month of February are very mysterious folks. They do not open up easily and they tend to keep their distance. Most times, their partner will always have to pick on little cues and guess what they may be thinking.
If anyone wants to crack their protective shield, they have to first gain their trust and love before they open up to them. And that would definitely take a lot of time and patience.
They seek equality and balance
People who are born in February treasure equality when dealing with others. They don't want anything to be different between their partner and them.
They seek balance in everything they do. They do not want to control the relationship and they don't want their partner to be a control freak either. They are typical people who preach gender equality.
They are fun and spontaneous
People born in February are fun to be with. They make every moment count. They will make sure their partner doesn't experience any dull moment. Whoever has them in his or her life would be very lucky to.
They live in the present and don't let worries to weigh them down or ruin their mood. They will make their partner feel loved at any given time. They also love to pay attention to little details that make all the difference.
They are honest and loyal
February born people do not believe in lies. They will tell you about their true feelings. They love to explain everything that goes on to their partner. They confide in whom they trust.
They will say the truths about their thoughts and feelings and they also expect their partner to do so too. They love to build and maintain trust, for they are trustworthy individuals.
They are incredibly determined
February born people are the types that don't quit. They do not give up even in the most unfavorable conditions. They are known to believe that if they are consistent, luck will shine on them someday.
February borns can push through with projects and will not stop until their goal is achieved. They are very goal oriented and have the potential to become successful.
They make every celebration count
People born in February are one of the best lovers ever. They are born with the capacity to make their partner feel happy. They love to pay attention to minute details.
February borns are sure to make every special day extremely special. No anniversary, birthdays or Valentines' day will go without being celebrated. They will make such days a day for their lover to remember.
They are selfless and generous
February born people are compassionate. In a relationship, they will make sure to put their partner's needs in front of theirs. Seeing others happy gives them utmost joy.
They will do everything within their power to make their partner happy. They will give their last penny if it comes to that. They are generous caregivers who would give their time and attention to make everyone feel their best.
February born people are empaths. Their selflessness makes them take other people's problems as theirs. If their partner is sad or ill, they will begin to feel the same too.
It is very easy for them to put themselves in other's shoes. Anyone who is in a relationship with February born people will always be comforted by them. They are the perfect people whose shoulders you can lean on.
If you are born in February, we want to celebrate with you. Send your photo and birth day to naijagistnews@gmail.com.
Please ensure you send it 2  days to your birthday and send us a reminder a day before.
Read interesting facts about people born in January, February, March, April, May, June, July, August, September,  October, November, December.