Abuja News
Nigerian Customs Service NCS Boss Threatens To Sack Overweight Officers, Says Obese Officers Will Be Placed On Probation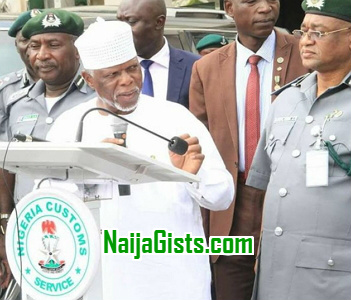 Nigerian Customs Service NCS Boss  Threatens To Sack Overweight Officers, Says Obese Officers Will Be Placed On Probation
The NCS has warned all overweight officials of the agency to lose weight and stay in shape or risk losing their jobs.
The Nigerian Customs Services Comptroller-General, Col. Hameed Ali (retd) gave the warning during the Nigerian Customs Command and Staff College graduation ceremony for its junior course in Abuja on Tuesday.
He said all overweight NCS officials must get back in shape if they want to keep their jobs.
See text of his strong warning message below:
"We are going to put in place a weight level. If you go beyond a certain weight level, you will be put on probation.

"If you cannot cope, we will probably get you out. Obesity should not be part of us; that is why we are called paramilitary."

"Today, we have been able to place customs on a high pedestal. People respect customs, not because of anything, but because we are beginning to change the way we do business.

"We are not asking for bribe anymore, although it's still going on, but not in many places. Also, we are not living flamboyantly" .
40 junior NCS officers graduated yesterday.