Political News
Nigerian Stock Market Gains N436Billion As Santa Claus Rally Ushers In Christmas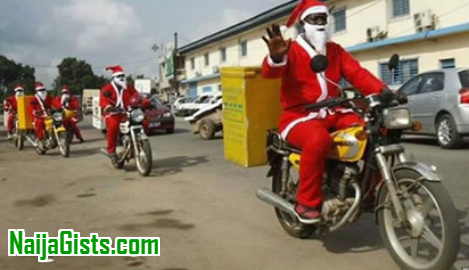 Nigerian Stock Exchange Gains N436Billion As Santa Claus Rally Ushers In Christmas
The Nigerian Stock market yesterday witnessed 'Santa Claus Rally'to usher in Christmas with N436 billion in market capitalization. The Santa Claus Rally, also known as the December effect, is a term for the occurrence of more frequent than average stock market gains as the year winds down. Transactions on the stock market had last Friday extended gaining streak to close on the green territory following appreciable demand by investors who are taking advantage of low prices of stocks. Consequently, the All-Share Index gained 1193.37 basis points or 3.88 per cent to close at 31,967.01 index points as against 30,773.64 recorded last Friday.

while the market capitalisation gained N436 billion to close from N11.240 trillion at the weekend to N11.676 trillion. Meanwhile, a turnover of 715.04 million shares exchanged in 2,791 deals was recorded in the day's trading. The insurance sub-sector was the most active (measured by turnover volume) with 531.2 million shares exchanged by investors in 158 deals. Volume in the sub-sector was largely driven by the activities in the shares of NEM Insurance Plc and Regency Alliance Plc. Banking sub-sector boosted by the activities in the shares of GTB Plc and Sterling Bank Plc followed with a turnover of 42.2 million shares in 431 deals. The number of gainers at the close of trading session was 36, while decliners also closed at five.

Further analysis of the day's trading showed that Dangote Sugar Plc, Diamond Bank Plc, Nestle Nigeria Plc and Stanbic IBTC Plc topped the gainers' table with 10 per cent each to close at N15.40, N1.65, N1,617 and N50.60 per share respectively while Seplat Petroleum Plc followed with 9.99 per cent to close at N642.90 per share.

Forte Oil Plc gained 9.84 per cent to close at N31.25 per share. On the flip side, Guinea Insurance Plc led the losers' chart with a drop of eight per cent each to close at 23 kobo per share apiece. Tataliser Plc followed with a loss of 4.76 per cent to close at 20 kobo per share while John Holt Plc dropped by 2.22 per cent to close at 44 kobo per share.