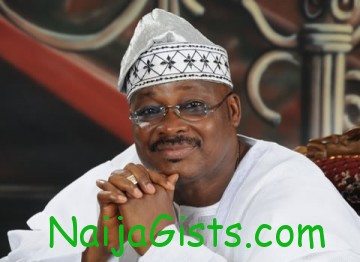 Governor Abiola Ajimobi
March 16, 2012 -Oyo State has begun a campaign to rid its streets of beggars. naijagists.com
Special Adviser to the Governor on Disability Matters, Mr. Paul Adelabu, said this on Thursday at the Oyo State Arts and Crafts Competition and Exhibition at Western Hall, Agodi Secretariat, Ibadan.
Among the participating schools at the arts and crafts exhibition and competition were Cheshire High School, Polytechnic Road, Ibadan; CAC Special School, Ibadan; Eruwa School for the Blind, Eruwa; School for the Deaf, Saki; and School for the Blind, Ogbomosho.
He said, "Begging is prohibited in Oyo State and if you insist on begging we will arrest you. I am sounding a serious warning to people living with disabilities that this government is not interested in street begging.
"Do we need to be begging because of disability? It is sad and shocking that people are using children with disabilities to beg so as to feed their families.
"The law does not permit anybody to use a physically challenged person for begging. By so doing, they are infringing on the fundamental human rights of the physically challenged."
According to Punch, commissioner for Education in Oyo State, Mrs. Tokunbo Fayokun, said the government had provided free accommodation and feeding for pupils in the 10 residential schools in the state. He said the state was committed to making life comfortable for children with special needs.
Fayokun said the event was aimed at building the creative awareness in children with disabilities.
She said, "This programme is a major way through which the disabled could exhibit their hidden abilities, talents and achievements.
"It is aimed at accelerating creativity among the disabled, encouraging reliance through arts and crafts, instilling a sense of self-fulfilment, innovation and motivation."