Borno State News
Photos: Nigerian Soldier Who Carried Out Mass Shooting At Borno Military Camp Identified
Depressed Nigerian Soldier Who Committed Suicide After Mass Shooting At Military Camp In Gwoza Borno State Revealed
Weeks after it was reported that an Army captain who was undergoing psychiatric evaluation committed suicide, another Nigerian soldier has also committed suicide in Borno State.

The late Nigerian soldier identified as Adegor Okpako, was attached to a staff sergeant attached to 192 Battalion in Gwoza. He reportedly committed suicide at about 2:50 p.m on Wednesday, after killing another sergeant colleague identified as Saka.
Though it is not clear if Okpako was receiving treatment for post-traumatic stress disorder or any form of mental health crisis, however it was gathered that the late soldier also left three soldiers and a member of the civilian joint task force seriously wounded in the random shooting.

Confirming the incident, the Nigerian Army tweeted shortly before 12 a.m. Thursday that the incident was a case of accidental discharge during training on Wednesday afternoon.
"Accidental discharge kills 2 soldiers. We deeply regret to announce the death of two soldiers of 192 Battalion who lost their lives as a result of an accidental discharge during in-theatre training today," the Army said.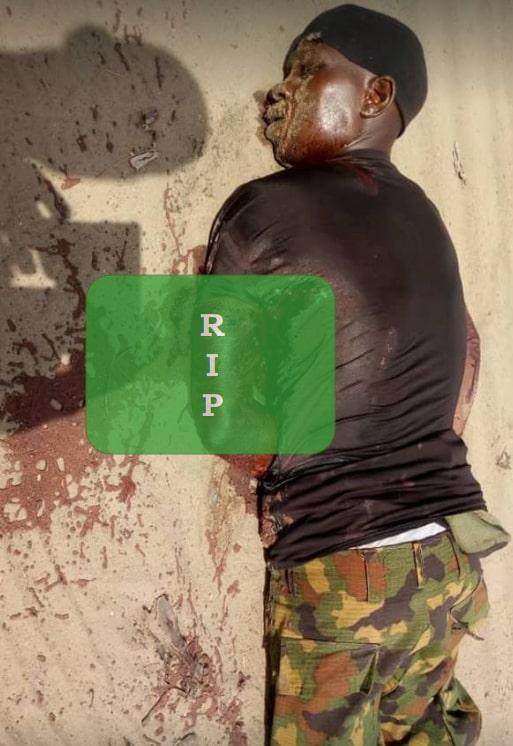 Another soldier allegedly shot dead by Okpako
However sources told Premium Times that it was a suicide case as no training was going on when the incident occurred, contrary to the claim by the Army. Even though the Chief of Army Staff, Tukur Buratai, has paid unscheduled visits to the war front at least two times within the past six weeks, sources told newsmen that the plight of Nigerian soldiers engaging Boko Haram terrorists in Nigeria's war-ravaged northeast appears to have worsened in recent months. Over 100 soldiers have been killed and as many feared missing since mid-July alone.
Military bases have been raided in recent weeks with terrorists making away with large quantities of military equipment in virtually every raid, a move which alarmed security analysts and residents in the region who feared the insurgents might have regrouped.