Biographies
Donald Duke Biography: Net Worth, Achievements, Educational  Background Of SDP Presidential Aspirant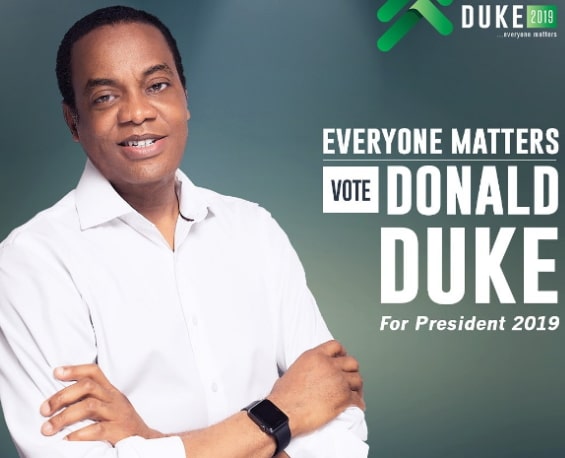 Donald Duke Biography & Net Worth: Achievements, Educational  Background and Life Story of Nigeria's SDP Party Presidential Aspirant
Donald Duke is one of the popular candidates contesting for the presidential position in the forthcoming general election. He is a seasoned politician, with decades of political experience under his belt. We bring you the profile and life history of one of the underdogs in the 2019 Presidential contest.
The Presidential aspirant is a popular political figure in the Niger Delta state of Cross River. He was a former Governor of the state. Prior to his rise to the top of Cross River State's political echelon, he was relatively unknown. During this period, he was building himself up for the best thing to come.
In this report, we are going to be taking you as far back as when Donald Duke was born and how he rose to prominence.
Donald Duke Biography
Donald Duke was born in the capital of Cross River State, Calabar. He was born into a wealthy family, headed by his father, Duke Etim Henry, who is renown as the longest serving head (Comptroller General) of Nigerian Customs Service. Henry Duke, was head of the service for eight years, between 1967 and 1975. He succeeded Ayodele Diyan, as the second Nigerian citizen to head the service.
Donald Duke spent most of his early life in Lagos, where he grew up in the midst of his parents and 4 siblings. He had his primary and secondary education in Lagos, and later travelled to the US. While in the United States, he engaged himself in numerous business dealings, which yielded positive returns.
Duke returned to Nigeria after his educational and business adventures in the US. As a trained lawyer, he reached out to a friend, Oniya, and together, they set up a Lagos-based law firm named Oniya & Duke. During this period, he balanced his Law practice with managing his family's business, Hegeds International Limited, a transportation business.
At the age of 30, Donald Duke got appointed to the Board of Directors of VON (Voice of Nigeria). A year later, in 1992, the then Military Governor of his state, Clement Ebri D., appointed him as honourable Commissioner of Finance, Budget and Planning. He left the position after a year, as a result of the 1993 regime change, which ushered in General Sani Abacha.
After Duke's ephemeral stint in politics, he had no choice but to commit fully to his career in the private sector and it didn't take him long before he got a juicy appointment. He was appointed to head a prominent franchise known as, Allied Merchants and Brokers Ltd.
Having been a victim of ruthless dictatorship rule of the military government, Donald Duke became heavily involved in pro-democracy campaigns, which eventually bore fruit, shortly after the death of General Sani Abacha, in 1998. General Abdulsalam Abubakar took over and eventually handed over to a democratically elected government of Olusegun Obasanjo in 1999.
Donald Duke was elected as the Governor of Cross River state and he went on to rule for two consecutive terms, between 1999 and 2007.
Donald Duke Achievements
The presidential aspirant achieved significant feats during his time as the Governor of Cross River State. He is arguably the most successful governor in the history of the state. He has carved his name in the sand of time and also in the hearts of the people of Cross River state. The former Governor formulated several developmental policies, which resulted in significant infrastructural transformation of the state.
Donald Duke made giant strides in the areas of Environment, Agriculture, Infrastructural Development, Tourism and many more. His exploits in Environment and Tourism remain the standard till today; for which other Governors and states are striving to live up to. Calabar, the capital of Cross River, is characterized by lush-green environment, which is the reason many people refer to it as the 'cleanest city' in Nigeria.
The highlight of Donald Duke's achievements, as Governor, is without doubt his exploits in Tourism. Donald Duke transformed Cross River state into the number-one tourist destination in Nigeria, with his construction of Obudu Cattle Ranch and Tinapa Resort. Obudu Cattle Ranch plays host to thousands of foreign visitors every year. The ranch is now used for a mountain race competition, which invites professionals from all over the world.
Duke also made notable changes to the financial system of Cross River state. Two years before the expiration of his tenure (second term), in 2005, he created a fund reserve, which was designed to keep the state afloat during the time of recession and the likes. His impressive financial management and transparent method of rule, gave him a pass mark, as he was reportedly one of the five Nigerian Governors, who weren't under criminal investigation by the EFCC, in 2006.
In summary, Donald Duke is arguably one of the few visionary Governors to have ruled a Nigerian state. His entire achievements are too numerous to mention. Hence, the above are just some of his key achievements as Governor of Cross River State.
On May 29, 2007, Donald Duke handed over to his successor, Liyel Imoke.
Donald Duke Educational Background
 The aspiring President's educational sojourn is a bit of an adventure. He started his primary education at Corona School in Victoria Island Lagos. At the secondary level, he first attended Unity School in Sokoto, before completing his secondary education in Ilorin, Kwara state.
Shortly after obtaining his SSCE, he returned to Lagos and subsequently enrolled at Federal School of Arts and Science for his Advanced level/pre-degree programme. After his programme, he was offered admission to study Law at the Zaria-based university, Ahmadu Bello University. He obtained his LL.B from the University in 1982 and subsequently proceeded to Nigerian Law School, Lagos for his one-year mandatory law training. He obtained his B.L from the Law school in 1983.
Immediately after his law training, Donald Duke left Nigeria for the United States, where he subsequently obtained his Masters in Business Law & Admiralty (L.L.M), from University of Pennsylvania.
Donald Duke Age
The presidential aspirant was born on September 30, 1961. That is approximately 57 years ago. Donald Duke celebrated his 57th birthday on Sunday, 30th September, 2018.
Where is Donald Duke Now?
Donald Duke is currently not holding any political position. He has, over the past decade, devoted his time and energy into his personal life and business.
On a political scale, he has left the People Democratic Party for Social Democratic Party. He announced his defection from PDP to SDP about a month ago, on September 4, 2018.
He is currently based in Lagos State Nigeria.
Donald Duke Wife
The aspiring president is happily married to the woman of his dream. The name of his wife, former First Lady of Cross River state, is Onari Duke. Donald met Onari during their university days, in A.B.U Zaria. She was also a Law student, Their marriage is blessed with two beautiful daughters.
Onari Duke, just like her husband, is a successful lawyer, businesswoman and Civil Servant. She is also a renown philanthropist, who owns a NGO, CSDON, which caters for cancer patients, women and children. Also, Onari Duke is on the Board of Directors of United Bank for Africa, as a non-executive member.
Donald Duke Daughters
The ex-Governor has two daughters, who are his only children. The first daughter is known as Xerona Duke, while the younger daughter is Nella Duke. The two sisters got married within a month interval earlier this year.
In April, 2018, the eldest daughter, Xerona, got married to DJ Caise, whose real name is Derin Philips. Their wedding was a grand event which was graced by many prominent figures in the country.
Barely one month later, in May 2018, Nella followed the footsteps of her elder sister and did her own wedding. She got married to her fiancé, Asuquo Ekpeyoung, who is the serving Commissioner for Finance in Cross River State. Nella Duke's 32-year old husband, Asuquo Ekpeyoung, is the youngest commissioner in Nigeria today.
Donald Duke Son
The ex-Governor has no son. However, he has two son-in-laws, Derin Philips and Asuquo Ekpeyong.
Donald Duke Net Worth
As a former Governor and successful business owner, Donald Duke has amassed significant wealth for himself. His estimated net worth is 20 billion naira .
Donald Duke for President
On Friday, June 8, 2018, the former Governor announced his intentions to run for the office of the President of Nigeria, in the 2019 general elections. At the time of his announcement, he was still under the platform of the People Democratic Party (PDP). He was, however, not confident enough in his chances of clinching PDP's presidential ticket; hence, his defection to Social Democratic Party (SDP).
Duke emerged victorious as the Presidential candidate of SDP, during the party's primaries which held earlier this month. He defeated his opponent, Jerry Gana, and will now represent SDP in the forthcoming Presidential election.
Recent reports have indicated that, Donald Duke has chosen Dr. Chinnan Maclean Dikwal, from Plateau state, as his running mate.