Nkem Owoh Osuofia Biography & Net Worth: Contact Phone Number, Wife, Age & Siblings
Nkem Owoh is a comedian and an actor in the Nigerian movie industry (Nollywood), who is best known for his talkative roles.
Nkem Owoh Osuofia Biography And Net Worth
He was born in October 1958, in Amagu Village, Udi town, Enugu state, Nigeria, and is now 58 years old. When he finished his primary and secondary education, he got admitted to the university of Ilorin to study for a BSc in Electrical Engineering.
While in the University, he started his acting career. He was also a newscaster in the NTA network news Enugu, during the early 80s.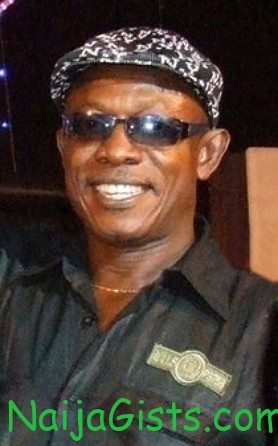 He has acted hundreds of Movies like Things Fall Apart back in 1987 (This is one of his first major movies. He starred this movie alongside the veteran actor, Pete Edochie), Ukwa, back in the year 2000 (This movie gave him the popular nickname "Ukwa"). The movie is about a funny village man Ukwa who travels to the city to meet his rich elder brother, and gets shocked when he is made an ordinary driver. This movie is packed with lots of interesting scenes.
Big man…Big Trouble, Conspiracy, Onye-Eze (2001), Fake Doctor, Long John, Police Officer, Spanner, King of the Forest, Mr. Trouble, Osuofia in London (2003), American Visa, Osuofia in London 2 (2004), Spanner goes to Jail, A fool at 40, Military zone in 2012, Ghana must go in 2015, Lionheart in 2018 (A modern drama directed by Genevieve Nnaji, starred by Genevieve Nnaji, Nkem Owoh, Pete Edochie, Kanayo .O. Kanayo, and a lot others. This movie is the first Nigerian movie bought by Netflix), aside from the above, Nkem Owoh has acted many other movies not mentioned here.
Back in 2003, the movie "Osuofia in London", bagged him several awards and nominations both locally and internationally.
This was a comedy movie directed and produced by Kingsley Ogoro. Nkem Owoh was the major character of this movie (Osuofia).
It was one of the best selling Nollywood movies, and it significantly increased his popularity in the movie industry. The story line of the movie is about a funny villager named Osuofia who travels to London where his deceased brother left behind for him, a big estate. On getting there, he met his late brother's wife (a white lady), who doesn't buy the idea of having herself as an inheritance too, by some traditional law.
The cultural mishaps, funny encounters and travelling adventures all merge to make this movie a complete comedy. This movie also has a second part which was aired the following year (2004).
Nkem Owoh is also recognized for composing and playing the song "I Go Chop Your Dollar" which was about 419 fraud (aka, advance fee fraud), and was featured in the movie "The Master".
This song was later banned by the Nigerian Broadcasting Commission and the EFCC, based on a misconception that it encouraged 419 fraud.
In the year 2007, Nkem Owoh was apprehended by the Netherland Police while in Amsterdam, Netherlands on allegation of lottery fraud and immigration violations, but was later set free.
He won the award for the Best Actor in a Leading Role at the African Movie Academy Awards in 2008. The next year (2009), he was kidnapped in east Nigeria and his kidnappers asked for a payment of N15million. He was later released when his family reportedly paid the sum of #1.4million to the kidnappers.
He has encountered lots of hurdles but has been consistent in his career over the years. Today, he is one of the most popular actors, as far as nollywood is concerned.
Nkem Owoh's Wife
There is a popular mistake, that the Nigerian actress and Philanthropist Chinwe Owoh is the wife of Nkem Owoh. Well, this is not true. They are not married.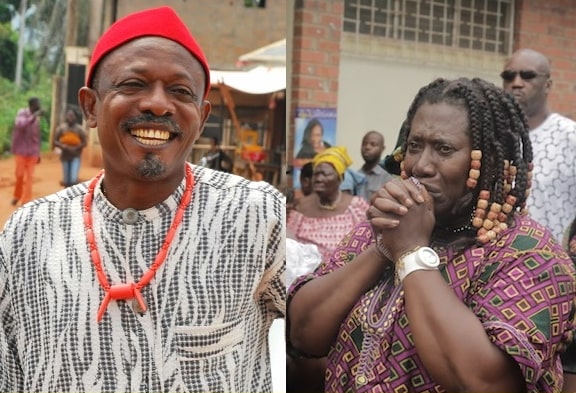 If you are wondering why they have same surname "Owoh", It is because they are in-laws. Chinwe Owoh is married to someone from the Owoh family, of which Nkem Owoh is also a member of.
The real wife of Nkem Owoh is Ngozi Nkem Owoh. She is not that known, as she prefers to stay out of the public eyes. Nkem got married to his wife Ngozi back in 1998, and they have been together till date. Despite Nkem having a profession that makes him travel all the time, she has been understanding and supportive all along.
Nkem Owoh Children
Being a kind of person who does as much as possible to prevent his personal life from the public eyes, a lot of people do not know much about the personal life of Nkem Owoh.
Fans have been asking if he has a son, because they have probably seen only his daughters. Well, Nkem Owoh has two daughters who are currently teenagers. He doesn't have a son.
He has been trying as much as possible, to let his daughters live like normal people by preventing them from the public. However, he surprisingly brought them out to the public once, during the renewal of his endorsement deal with MTN. Despite appearing at the event, they didn't have any interview session at the event, and their faces were not all that in the cameras.
It is said that he plans to show his daughters off to the public soon, as he hopes to create a platform for them. We do not know if they have passion for acting or not, but we know that; whatever they choose to do in Life, their superstar daddy would be equal to the task.
Like I said earlier, they are reserved from the public so, we do not even know their names, or hobbies.
Nkem Owoh Death News
Like a few celebrities, Nkem Owoh has also been involved in false and coarse death rumours. There was a great shock in the movie industry and Nigerian as a whole when rumours had it, that the nollywood icon Nkem Owoh was dead. This was even worsened by the bad story line the rumour had. It was said that Nkem Owoh died as a result of a fracture of some hard drugs he reportedly consumed in a bid to trafficking them while in some unknown country. It was said that even a radio station in Lagos state confirmed the news, and even went as far as announcing when his body would be flown back to the country.
There were different stories, but they all had drug trafficking as the major headline. This rumour went even wilder as Nkem Owoh didn't come out public, to disprove it.
However, Owoh's public relation consultant confirmed that he wasn't ready to speak to the media about the false issue, but was very well and healthy, and did not even leave the country.
The president of the Actors Guild of Nigeria "Mr. Ejike Asiegbu", also helped in quenching the rumour as he told the public that he had spoken with Nkem Owoh, and he was okay.
He went further to tell them that Nkem Owoh is not dead, is not involved in drug trafficking, and will never be. He even said he had no doubts about the character of Nkem Owoh, as he was a good man whom he has know for a very long time. This rumour was said to have been connected to his case with the Netherland Police the previous year, which was about his song "I Go Chop Your Dollar", that was wrongly believed to have been glorifying "419" otherwise known as advance fee fraud.
Nkem Owoh Brothers And Sisters (Siblings)
As you may know by now, Nkem Owoh is someone who doesn't like his private life being out public. We do not know the names of his siblings. The only sibling of Nkem Owoh that is publicly known is Batholomew Owoh who was one of the three youths executed by General Buhari for a crime that reportedly did not carry a penalty of death.
Batholomew Owoh was just 26 then. The others were Lawal Ojuolape who was 30 then, and Benard Ogedengbe who was 29. They were openly killed by General Buhari's order.
It was said that the rules of the country (Nigeria) at the time of the misdeed didn't go with a death penalty. It just happened to be when Buhari took over as Head of State, and he insisted the young men be killed by firing squad. It was said that Batholomew and his friends were allegedly captured for trafficking cocaine, and was sentenced for that crime. Both Nkem and the whole Owoh family including friends were shocked by this, and it took time for them to recover from the lose. It is said that the Owoh family has not forgiven Buhari yet. Nkem also disclosed that he weeps whenever he sees Buhari on TV. He says it reminds him of the incident, and he still can not believe that Buhari has been re-elected as President.
With so many movies in his archive, so much popularity and businesses spread across, we usually ask how much Nkem Owoh (aka, Nkwa) is worth.
Nkem Owoh Net Worth
Nkem Owoh has been active in the Nigerian movie industry (Nollywood) right from the 80s so it is natural, and not surprising that he is one of the richest actors today. Nkem Owoh is currently estimated to worth a whooping $3.9Million dollars. That amount is equivalent to about N1.4billion Naira using the current dollar to Naira exchange rate.
His net worth keeps growing as he has endorsement deals, businesses, and is still active in the industry.