Biographies
TY Bello Biography, Net Worth & Life History: Age, Husband Name, Kids, Albums, Career & More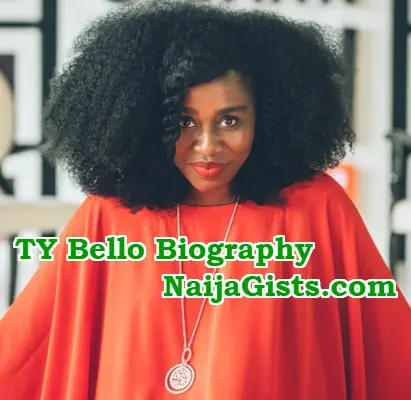 TY Bello Biography & Networth: Contact phone number, office address, family and more.
Ty Bello (Toyin Sokefun Bello) is a Nigerian songwriter, gospel singer, philanthropist, and photographer, who was born on the 14th of January 1976 in Ogun State, Western Nigeria.
She attended the University of Lagos, and graduated with a degree in Economics. After graduation, she changed track and ventured into journalism shortly, before she later developed interest in photography, and started a career as a photographer.
Ty Bello ventured into the Nigerian gospel music scene through the group "KUSH".
This was a music group she co-created with her friends Lara George, Dapo Torimiro, and Emem Ema (Rapper), who were all members of the Campus Fellowship choir in the University of Lagos.
KUSH was short for Kinetically Ushering Salvation into Hearts and Homes.
This group quickly gained fame back in the 2000s with the help of their hit "Let's Live Together", which was part of the one and only album the group was able to release "Experience Album" before it closed down. It was said that the group grew apart due to financial uncertainties, and individual careers.
Today, all members of the group are doing fine individually. All thanks to the wonderful foundation set by this group.
Dapo Torimiro is now a Grammy Award nominee, Platinum Songwriter, record producer, and instrumentalist based in the US.
He has worked with the likes of John Legend, Justin Bieber, Brandy David, Miley Cyrus, Jordin Sparks, and more.
Lara George is now an award winning Nigerian gospel singer, producer, and songwriter.
She has bagged so many awards both internationally and locally, has released numerous albums, and is currently one of the best gospel singers in the country.
On the other hand, the rapper Emem Inyang has launched her own successful creative Arts firm in Nigeria which she named One Integrated Management Co, and she is the proud pioneer winner of the British Council Awards for the International Young Music Enterpreneur (2006). They have all been doing fine individually in their careers.
Ty Bello was the official photographer to former Nigerian President Goodluck Ebele Jonathan, during his tenure. She also works in the Nigerian Newspaper company "This Day", as a fashion photographer. She is more than just an artiste in the industry. While speaking in an interview about her music and photography, she said it worked hand in hand, and that music and photography, are identical forms of arts. She said just like her photography, music is her language. She collects experiences, stir them into herself, and expresses them in her own language (music).
Ty Bello Humanitarian Works
Ty Bello has engaged in so many activities related to helping many humanitarian cases like peace, orphan education, female equality, and more.
She organizes an annual photography exhibition to raise funds for orphanages in Nigeria.
In 2011, she was featured in the Ministry of Youth Development Anti-rape campaign. During the earlier part of same year, she was honoured by the Communication for Change (a non-profit organization), in a documentary film series named RedHot. She is also currently the director of Link-a-child, a non-profit organization that is dedicated to presenting information about orphanages in Nigeria, in a bid seek sponsorship for them. She is indeed a compassionate lady who loves to see others happy.
Ty Bello Songs
Ty Bello has released numerous albums and hit singles all through the years. After the disbanding of KUSH, she started her solo music career, with the album "GreenLand". This earned her two major awards (Nigerian Music Award, and sound City Award), and kick-started her career as a solo artiste. Since then, she has continuously dropped hits and has continued in her award winning ways.
Ty Bello Albums
• Greenland (2007)
This was her first album as a solo artiste, and it was a major success, as it fully ushered her into the Nigerian music scene.
The album had hits like: Greenland, Freedom, Funmise, The Dance, This Man, Ekundayo ft Olufunmi, The Prophecy, Irede's Joy (Interlude), Beautiful ft MOSA, Ride With Me, Attoned, Never Walk Alone, Supernatural ft MOSA, and Your Day. This album landed her with 2 awards and other nominations.
It had hits, and was a huge success in the gospel music industry in Nigeria.
• The Future (2011)
After the success of "Greenland", Ty Bello later released "The Future", a studio album with just one long track mix titled "The Future".
This was also loved by her fans and listeners, and it received several positive reviews from people around the world.
• The Morning Songbook (2014)
This album was launched by Ty Bello in 2014.
Album Songs: Yaweh, I Am, Dance for You, Jesus Jesu, Heaven Touching Earth (Spontaneous Worship), The Name ft Fela Durotoye, Thirsty, Restorer, Gates and Doors, and Alagbada Ina ft Msugh. The morning songbook album was also a hit album that made waves all over the gospel world.
• Affirmations (Your Words Create Your World)
This album was a collaboration of Lanre Olusola and Ty Bello.
Album Songs: New Season Affirmation ft Ty Bello, The Hourable Man Affirmation ft Ty Bello, Empowerment Affirmation ft Ty Bello, Wisdom Affirmation ft Ty Bello, The Ultimate Virtuous Woman Affirmation ft TY Bello, and Wealth & Riches Affirmation ft Ty Bello. This album was also released in 2014 and is one full of relaxing and inspiring contents.
• The Spirit of Life (Ty Bello & Tope Alabi)
This album is a collaboration of Tope Alabi & Ty Bello.
It is her latest album work, and it was released on the 16th of January 2019.
This album contains 17 songs.
Album songs:
We Have Come (Ty Bello & Tope Alabi), Olowo Ina Osi (Ty Bello & Tope Alabi), Logan Ti Ode (Ty Bello & Tope Alabi) ft George, All The Glory (Ty Bello & Tope Alabi), Adonai (Ty Bello & Tope Alabi), Iwo Lawa Oma Bo (Ty Bello & Tope Alabi), Awa Gbe Oga (Ty Bello & Tope Alabi), Oba Mi De (Ty Bello & Tope Alabi), Emimimo (Ty Bello and Tope Alabi), No One Else (Ty Bello & Tope Alabi), Ayo (Ty Bello & Tope Alabi), Alayo (Ty Bello and Tope Alabi), Eruretooba, and Imolede (Ty Bello and Tope Alabi).
Aside from the albums, she has so many hit singles, and has been featured in many songs till date.
She has worked with co-artistes like Sinach, Lara George, Tope Alabi, and more.
Ty Bello Awards and nominations:
Toyin has won several awards and nominations all through the years. In 2008, she got nominated in The Headies Awards for Recording Artiste of the Year, Hip Hop World Revelation of the Year, Best Vocal Performance, and Best Music Video Director. She received all these nominations in the Headies Awards 2008. Same year (2008), she won the Nigerian Entertainment Awards for Best New Act of the Year. In 2009, she won the sound city Music Video Award for Best Female Video (Ekundayo). In 2013, she got nominated for the Creative Industry Awards for Visual Arts.
In 2018, she won the Inspirational Woman of the Year Award COWLSO. She has bagged many more awards and nominations over the years.
Ty Bello's Father
Ty Bello's father "Remi Sokefun" was a bigtime Tv Producer who always hosted top level musicians in his home. He has hosted several musicians including the Afropop Legend Fela Anikulakpo Kuti.
Ty Bello's Husband And Kids
Toyin got married to her husband Kashetu Bello in 2009. According to her, she had to endure endless pressure from both family and friends for nine whole years, before she finally gave birth.
She gave birth in 2014 (nine years after marriage with her husband). And as God planned it, she gave birth to twin boys. These boys were named Christian and Christopher.

According to her, It was a blessing by God, to make up for her lost time of being a mother.
Ty Bello on Social Media
You can get Ty Bello on social media platforms like Instagram, e.t.c. On Instagram, you can contact her via @tybello. She is active on this platform, and currently has about 735k followers.
She recently celebrated her mum's 77th birthday on this platform. You can follow her to get latest happenings in her life.
On Facebook, you can follow her fanpage @tybellofanpage, to get information on latest happenings around her. Unlike many celebrities, Ty Bello is not active on twitter. She uses Instagram and other social media platforms like whats app and Facebook, but you can keep in touch with her on her Instagram handle. She is very active on Instagram so you'd get latest information and posts directly from her, on this platform. As you know, whatsapp is a private social media platform, so you can get her on whatsapp, only if she knows you and has your mobile number, or you have hers.
Ty Bello's Net Worth
Being a successful musician, professional photographer, official photographer of the former Nigerian President Goodluck Ebele Jonathan during his tenure, This Day Live Fashion photographer, and business owner, it is natural, that we'd want to know the net worth of Ty Bello. Well, unfortunately, Ty Bello's net worth is not know yet. We do not know her exact net worth, but we know that whatever it'd be, it would be a huge sum.